Captain Clark N. Stratton, the commanding officer of Troop H, in St. Joseph, announces the assignment of one new trooper within the Troop H area. The new trooper was a member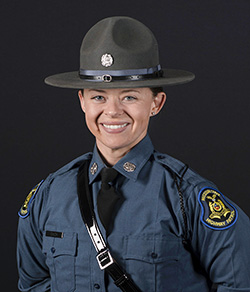 of the Missouri State Highway Patrol's 111th Recruit Class that graduated from the Patrol Academy on July 23, 2021. The new trooper will report for duty, in her respective assignment, on August 9, 2021.
The following counties are served by Troop H in northern Missouri: Andrew, Atchison, Buchanan, Caldwell, Clinton, Daviess, DeKalb, Gentry, Grundy, Harrison, Holt, Livingston, Mercer, Nodaway, and Worth.
Trooper Molly A. Gach, a native of St. Joseph, Missouri, has been assigned to Zone 6, which serves the citizens of Andrew and Buchanan counties. Trooper Gach graduated from Benton High School in St. Joseph, Missouri. She holds a Bachelor of Science in agriculture business management from the University of Central Missouri in Warrensburg, Missouri.