Kimberly Meeker, Financial Aid Director at North Central Missouri College, has been recently elected to serve as the 2019 Secretary for the Missouri Association of Student Financial Aid Personnel (MASFAP) twelve member executive board. Kimberly has worked in the NCMC Office of Financial Aid for six years and currently is in her third year as the Director. She serves on the MASFAP Early Awareness Committee and the Program Committee. Kimberly will begin her secretarial duties at the annual MASFAP conference held in November.
"I value the experiences and relationships I have gained through working on the MASFAP committees, said Kimberly. "I am honored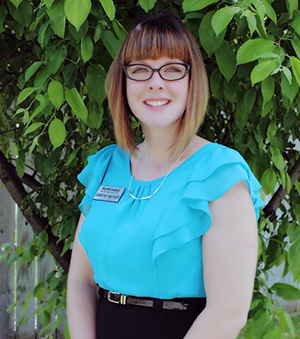 to have been elected to serve as the 2019 Secretary on the MASFAP Executive Board and look forward to future professional growth within the organization."
MASFAP is dedicated to serving and advocating for practitioners, users, and providers of student financial aid programs by opening avenues to access the benefits of higher education and advocating for the maintenance of high ethical standards in the financial aid profession (www.masfap.org).
"The Missouri Association of Student Financial Aid Personnel is a well-respected, professional organization in the state.  We are excited to see Kimberly serve in a leadership role in this organization and continue to represent NCMC and other community colleges across the state," said Dr. Kristen Alley, Associate Vice President of Student Affairs. Dr. Alley went on to say, "Kimberly is extremely knowledgeable about financial aid programs and requirements of Title IV.  Under her tutelage, the entire NCMC Financial Aid team works hard to provide the best possible service to students, while maintaining compliance with complex federal guidelines.  We know Kimberly will represent NCMC well as she works with colleagues across the state to improve financial aid programs for all students in higher education."