A law enforcement investigation in Daviess County has led to the arrest of a man from Hamilton.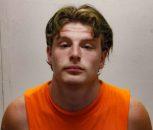 Twenty-one-year-old Cyrus J. Dilley has been charged in Daviess County with 1st-degree rape or attempted rape, 1st-degree sodomy or attempted sodomy, and 2nd-degree domestic assault. All three counts are felonies stemming from May 16th.
No bond was set for Dilley, pending an appearance in Daviess County Circuit Court.