In Nevada's high desert is the Navy's premier tactical air warfare training center, home to the Naval Aviation Warfighting Development Center and it's Strike Fighter Tactics Instructor program, known to the world as TOPGUN.
A 2010 Princeton Junior/Senior High School graduate and Princeton, Missouri, native is part of the Navy's finest aviation fighter training facility in the world.
Petty Officer 2nd Class Charly Hamble is a master-at-arms working with the NAS Fallon Security stationed aboard Naval Air Station Fallon, Nevada.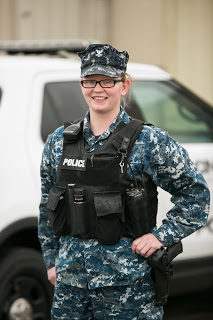 A Navy master-at-arms is responsible for performing anti-terrorism, force protection, and law enforcement duties.
"I wanted to continue the family tradition of military service," said Hamble.
TOPGUN began 48 years ago with the determination of nine pilots, the skepticism of the government and almost no budget as history would recall. In the early years, it turned the tide of a losing air war in Vietnam, revolutionized military doctrine, inspired a Hollywood blockbuster and attracted and trained the best-allied pilots and aircrew from all over the world.
Hamble plays a crucial role in the overall mission that flies over 5,000 adversary sorties per year in support of the Navy and Marine Corp Active and Reserve fleet and replacement squadrons, carrier air wings and marine aircraft groups including the United States Air Force, Air Force Reserve and Air National Guard and Canadian Forces.
"Nowhere in the world does the Navy have the ability to train as we do in NAS Fallon," said NAS Fallon Commanding Officer Capt. David Halloran. "The Navy specifically chose NAS Fallon as the location for Top Gun and the Naval Special Warfare Tactical Ground Mobility Training Center because of the desert climate, mountainous terrain, and sophisticated ranges available in northern Nevada. Every Carrier Air Wing and Navy Seal Team is required to receive the essential training provided here prior to being deployed in theater."
According to Navy officials, TOPGUN is highly competitive and exposes Navy and Marine Corp pilots to the most demanding training scenarios in fighter aviation lead by some of the most talented pilots in the world. Each pilot is hand-selected for air-to-air and air-to-ground training and subsequently, as a TOPGUN instructor.
"My grandparents and siblings have served in the military," said Hamble explaining that service was a family tradition. "I was proud to be selected Junior Sailor of the Quarter and I'm now working towards my Volunteer Service ribbon."
Hamble also said they are proud to serve at the center of excellence for naval aviation, training and tactics development.
The future of U.S. aviation depends on the Navy's ability to achieve their vision for defeating tomorrow's air threats with the support of the ground crews and pilots.
"I'm proud of the work I do, knowing I'm protecting others while serving my country," added Hamble.
______________