Attorney Allan Seidel of Trenton is the new President of the North Central Missouri College Foundation Board of Directors. Seidel was elected at the annual meeting of the Foundation in May.
Seidel replaces Cathy Bailey of Trenton, who has served as the President for the past three years. "The NCMC Foundation supports all the great work being done at NCMC by students, faculty, and staff. When I attended Trenton Junior College (now North Central Missouri College), there were 95 students total, and we were on the third floor of Trenton High School. So I have seen the wonderful change of the college to expand and serve not only Trenton and Grundy County but all of North Missouri," said Seidel. Elected with Seidel were Trenton residents Scott Wilson as Vice President, Tricia Key as Secretary, Cara Farmer as Treasurer, Jena Eads as Assistant Secretary, and Gary Black as Assistant Treasurer. All were elected for a one-year term of office.
Elected for three-year terms on the Foundation Board of Directors were Gary Black of Trenton, Jeff Crowley of Trenton, Phil Hamilton of Brookfield, and Phyllis Jackson of Trenton. Joining the Foundation Board as new members are Chad Boyd of Trenton, Eric Hauck of Trenton, and Cathy McKay of Trenton; all elected to a three-year term.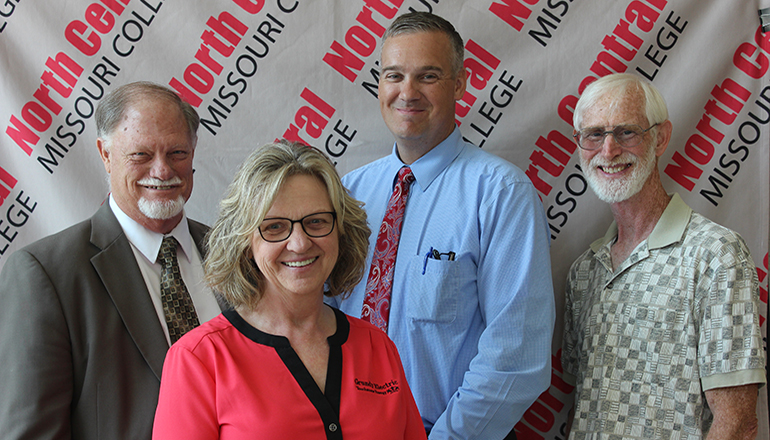 Chad Boyd, originally from Waterloo, Iowa graduated high school in 1990 from Waterloo West and earned B.A. from the University of Northern Iowa in 1995. Boyd has lived in Trenton since 2001 and has been an employee of Hy-Vee since 1998. Boyd's family includes his wife of 16 years, Trudi and two sons Austin and Noah. His favorite pastimes included fishing, golfing with family, and enjoying sporting events in person or on television.
The Boyd Family also enjoys spending time and playing with their two dogs Soda and Bella. Boyd is active in the community serving as a board member for the Trenton Area Chamber of Commerce, Wright Memorial Hospital Foundation, United Way, Riverside Country Club Board, Workforce Investment Board, and Trenton Lake Association Board. He also serves as an ambassador for the Trenton Area Chamber of Commerce and is an active member of the First Assembly of God Church. "NCMC is such an important part of our community I am honored and proud to serve on the NCMC Foundation Board. I am looking forward to the opportunity to help this wonderful institution," Boyd said.
Eric Hauck is a 1974 graduate of Trenton High School and attended Westminster College from 1974-77 where he was a member of the Kappa Alpha Fraternity and the track team. Hauck attended Northwest Missouri State University where he earned a B.A. in English/Psychology in 1986 and an M.A. in Education in 1988. Hauck has been a self-employed house painter since 1982 in addition to teaching and coaching junior and senior high school from 1989-1992 at Kemper Military School and College. He is married to Linda White who is a first-grade teacher in Chillicothe. The couple will celebrate 25 years of marriage this September and have two married children, Bryan (Jenny) Maxey and Hollie (Roger) Hild.
Hauck is a member of the First Assembly of God Church and serves as news editor for the Friends of Grundy County Jewett Norris Library. His hobbies include gardening, archery, and fishing or hiking with his five grandchildren. "NCMC's contribution to the community and to northwest Missouri is common knowledge and not only serves as a pillar to the economy but provides a name and a service for which we can all be proud," Hauck said.
Cathy McKay is a graduate of Trenton High School and TJC (now NCMC). She attended Truman State University and earned a B.A. in Business Management from Tarkio College. McKay has been an employee of Grundy Electric Cooperative, Inc. since 1979 where she has served as office manager for the past 29 years. She is an adjunct instructor at NCMC in the Business Technology Department and has earned a management and supervisory certificate from the National Rural Electric Cooperative Association. She is married to Steve McKay, and they have two married children, Lesley (James) Arnold and Kinnison (Rhiannon) McKay and two grandchildren.
McKay is a member of Hodge Presbyterian Church where she serves as treasurer and loves teaching adult Sunday school. Some of her other community involvement includes: Chapter MN, PEO; Trenton Rotary Club; Missouri Electric Cooperatives Employees' Credit Union Board; Missouri Electric Cooperatives Accountants 'Association; Trenton R-IX Board of Education (9 years); Trenton Park Board; ambassador for Trenton Area Chamber of Commerce; Wright Memorial Hospital Foundation Board. Her hobbies include walking, sewing, watching all types of sporting events, and spending time with her grandchildren. "The College has always been very important to me– as a student and now as an alumnus. I am honored to serve on the NCMC Foundation," McKay said.