Accidents : Utah Resident Hurt In Accident
Posted by Randy

on 2013/8/1 5:27:59

(

629 reads

) News by the same author
A Utah resident was injured yesterday afternoon south of Pattonsburg when a pickup truck lost a wheel while southbound on Interstate 35.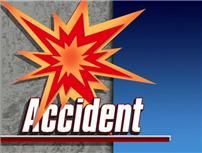 A passenger, 26-year old Mark Overocker of north Logan, Utah, was taken to
Cameron Regional Medical Center with what the highway patrol called moderate injuries. The driver, 29-year old Adam Tripp of north Logan, Utah was not reported hurt.

The accident occurred six miles south of Pattonsburg on I-35. The pickup truck was southbound pulling a trailer when the left rear wheel of the pickup fell off, causing the pickup to skid, go off the right side of the road, and overturn. The towed unit came unattached. Both the pickup and the towed unit came to rest on their side.

The pickup was demolished. Both persons were wearing seat belts.
Bookmark this article at these sites