News : Heat Stroke Prevention Tips
Posted by Randy

on 2013/7/31 6:50:00

(

1728 reads

) News by the same author
Today is National Heat Stroke Prevention Day.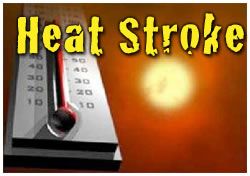 Various agencies and institutions are involved in efforts to raise awareness and educate parents and caregivers about ways to prevent children from unknowingly being left alone in a hot vehicle.

Wright Memorial Hospital at Trenton quotes

the kids and cars website

as recommending persons get in the habit of opening a back door of a vehicle each time a destination is reached to make sure no child or pet has been left behind.

Among other suggestions are to leave something you'll need on the floorboard in the back seat of a car in front of a child's car seat. This requires a back door to be opened to
retrieve your belongings.

Keep a large stuffed animal in a car seat when the car seat is not being used, then move the stuffed animal to the front seat as a reminder that a child is in the seat.

Make arrangements with your daycare provider or babysitter to call within ten minutes if a child does not arrive as expected.

Other recommendations include never leaving children alone in or around cars, not even for a minute, keeping vehicles locked at all times, and keeping car keys and remote openers out of reach of children.

More than 20 children have died thus far this year in the united states in hot cars. The national yearly average is around 37.

Wright Memorial Hospital said heat stroke is the leading cause of non-crash vehicle fatalities for children 14 and younger. Children are especially vulnerable to heat stroke since their body temperatures rise three to five times faster than an adults.
Bookmark this article at these sites