News : Heat Stroke Prevention Tips
Posted by Randy

on 2013/7/31 6:50:00

(

1407 reads

) News by the same author
Today is National Heat Stroke Prevention Day.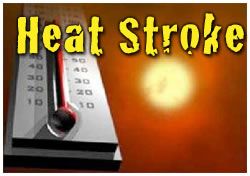 Various agencies and institutions are involved in efforts to raise awareness and educate parents and caregivers about ways to prevent children from unknowingly being left alone in a hot vehicle.

Wright Memorial Hospital at Trenton quotes

the kids and cars website

as recommending persons get in the habit of opening a back door of a vehicle each time a destination is reached to make sure no child or pet has been left behind.

Among other suggestions are to leave something you'll need on the floorboard in the back seat of a car in front of a child's car seat. This requires a back door to be opened to
retrieve your belongings.

Keep a large stuffed animal in a car seat when the car seat is not being used, then move the stuffed animal to the front seat as a reminder that a child is in the seat.

Make arrangements with your daycare provider or babysitter to call within ten minutes if a child does not arrive as expected.

Other recommendations include never leaving children alone in or around cars, not even for a minute, keeping vehicles locked at all times, and keeping car keys and remote openers out of reach of children.

More than 20 children have died thus far this year in the united states in hot cars. The national yearly average is around 37.

Wright Memorial Hospital said heat stroke is the leading cause of non-crash vehicle fatalities for children 14 and younger. Children are especially vulnerable to heat stroke since their body temperatures rise three to five times faster than an adults.
Other articles
2014/12/18 15:10:26 - 550 Million Year Old Fossils Provide New Clues about Fossil Formation
2014/12/18 15:10:00 - Daniel, Maclin, Coffman Highlight Mizzou's 2014 Hall Of Fame Class
2014/12/18 15:03:45 - Gallatin Man Organizing Regional Horticulture Conference
2014/12/18 14:58:51 - Upgraded Ketcham Center Set To Host 10th Annual Holiday Hoops
2014/12/18 14:48:10 - Royals Add To Pitching Staff, Signing Ex-Atlanta Brave Kris Medlen
2014/12/18 14:31:14 - Buchanan County Inmate Found Dead
2014/12/18 14:26:33 - Thursday Morning Accident Injures Jamesport Man
2014/12/18 12:30:00 - Ankle Bracelet Helps Police Catch Suspected Burglar
2014/12/18 12:27:33 - THS Freshmen Split With Cameron Dragons
2014/12/18 12:20:24 - Tri-County Conference Rivals Split Hoops Doubleheader
2014/12/18 12:15:46 - U.S. Officials Blame North Korea For Sony Hack
2014/12/18 12:06:48 - U.S. Kills Three ISIS Leaders in Iraq Strikes, Officials Say
2014/12/18 11:30:00 - Milan Wildcats Find Struggles At Knox County, Lose Stallbaumer To Injury
2014/12/18 11:28:41 - Hornets Stay Red-Hot, Sweep Macon
2014/12/18 11:21:10 - St. Joseph Truck Driver Convicted in Child Prostitution Case
2014/12/18 11:16:36 - Lafayette Girls Upend Hamilton, 45-40, Head To Trenton On Saturday
2014/12/18 5:50:00 - School Announcements For Thursday (7:41 AM Update)
2014/12/17 13:22:19 - Could Alcatraz Escapees From '62 Have Survived?
2014/12/17 13:10:28 - Waco, Texas Meteorologist Shot Outside TV Station
2014/12/17 13:10:00 - St. Joseph Mom Accused Of Starving Baby To Death
2014/12/17 11:20:00 - Trenton Bulldog Coaches Shows For Wednesday, 12/17/14
2014/12/17 10:16:42 - 19th Century Worth County Court Cases Added To Statewide Database
2014/12/17 10:10:30 - Livingston County Investigating Property Damage Reports
2014/12/17 10:02:39 - Hamilton Woman Wins NCMC Scholarship
2014/12/17 9:40:00 - Trenton Tames The Tigers, Awaits Gallatin Visit
2014/12/17 9:30:00 - KC Royals Officially Announce Kendrys Morales Signing
2014/12/17 9:10:00 - Trenton Police Department Begins Body Camera Usage
2014/12/17 8:43:30 - MCT Seeks Actors/Actresses To Perform "The Jungle Book"
2014/12/17 8:30:00 - Indiana Woman Wishes To Be Buried With Her Dog, But.........
2014/12/17 8:30:00 - Young Ohio Woman Continues Public Battle With Brain Cancer
Bookmark this article at these sites