Accidents : California Man Injured In I-35 Accident
Posted by Randy

on 2013/7/31 6:21:10

(

567 reads

) News by the same author
A truck driver from California was hurt yesterday at Cameron when a tractor trailer unit hit several highway signs and an embankment demolishing the truck.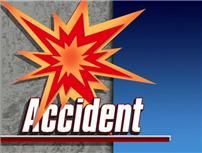 54 year old Gregory Brutyan of Murrieta, California was taken to Cameron Regional Medical Center with what the highway patrol called moderate injuries.

The accident occurred during the noon hour Tuesday on the off ramp from southbound Interstate 35 to US 36. The patrol said a 2013 model truck went off the right side of the
off ramp, struck several highway signs, went back to the left across the off ramp and hit an embankment.

The accident blocked the off ramp, Brutyan was wearing a seat belt.
Bookmark this article at these sites