Accidents : Princeton Man Injured In Accident
Posted by Randy

on 2013/7/30 4:22:22

(

882 reads

) News by the same author
A Mercer County accident involving a truck and a car has injured a Princeton man.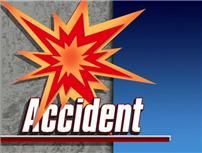 The highway patrol said 51 year old Marty Neighbors received moderate injuries and was taken by ambulance to Wayne County, Iowa, hospital in Corydon.

The accident occurred Monday morning 12 miles north of Ravanna on Route W.

The state patrol said 19 year old Conner Dandyne of Corydon, Iowa was driving a truck, pulling a piece of farm machinery, southbound on W when a front wheel of the towed unit broke free and traveled into the path of the northbound car driven by Neighbors. His car was struck by the wheel although Neighbors also attempted to avoid a collision by swerving to the right, crossing the center line, and partially going off the west side of the road.

His car received extensive damage. The truck was listed with minor damage. Both drivers were using seat belts.
Other articles
2015/11/25 12:30:05 - 11 Earthquakes Strike SE Missouri Overnight
2015/11/25 12:00:00 - Trenton Woman, Rescued In Monday Fire, Passes Away In Hospital
2015/11/25 11:14:43 - Mizzou Women Beat SIUE 75-46, Move to 5-0
2015/11/25 10:57:47 - Northwestern Holds Off Missouri 67-62 In CBE Classic
2015/11/25 10:50:00 - Lady Bulldogs Ride Richman's 22 Points To First Win Of Season
2015/11/25 10:36:32 - Gilman City Girls Open With Road Win Against Osborn
2015/11/25 10:26:54 - Chillicothe Routs Penney In Girls Season Opener
2015/11/25 10:20:00 - Princeton Splits Season Openers At North Harrison
2015/11/25 9:30:00 - Trenton Goes Overtime In Season-Opening Win Over East Buchanan
2015/11/25 8:56:26 - Mizzou Facing Image Crisis After Racial Issues, Upheaval
2015/11/25 8:26:05 - Two Charged With Murder After Man Found Dead Near Branson
2015/11/25 7:35:35 - North Central Missouri College Board of Trustees Meeting Report
2015/11/25 6:38:42 - Cameron Regional Medical Center Announces Awards Scholarships
2015/11/25 6:29:52 - 37th Annual Eagle Days at Squaw Creek Refuge To Be Held Dec. 5 & 6
2015/11/25 6:02:08 - Grundy County To Receive New Voting Equipment
2015/11/25 5:46:26 - Woman Identified In Monday Fire
2015/11/25 5:37:58 - Two Teens Injured, One Arrested In Accident Near Milan
2015/11/25 4:21:31 - Authorities Identify Victims, Alleged Shooter In Moberly Area Murder-Suicide
2015/11/25 4:18:02 - Grandfather Who Let 8-Year-Old Drive In Fatal Crash Had DUI, Drug History
2015/11/25 4:08:39 - A Rainy Thanksgiving And Potentially Slick Black Friday Morning For Missouri
2015/11/25 3:57:16 - Livingston County Sheriff Investigation Results In Conviction
2015/11/25 3:49:18 - I-29 Traffic Stop Nets 60 Pounds Of Marijuana
2015/11/24 15:28:17 - NCMC Men Fall To .500 With Hard Fought Road Loss
2015/11/24 15:21:45 - Grundy R-5 Swept In Basketball Season Openers
2015/11/24 15:19:17 - Kansas State Blows Out Missouri 66-42 In CBE Classic Semis
2015/11/24 15:15:14 - Cunningham Repeats As SEC Freshman Of The Week
2015/11/24 15:13:38 - Trenton JV Girls Drill Cameron, 37-9
2015/11/24 10:25:04 - NCMC Lady Pirates Limp Into Thanksgiving On Three-Game Skid
2015/11/24 9:30:00 - Mizzou Basketball Will Play In Puerto Rico In November '16
2015/11/24 9:15:21 - Hamilton Overcomes Wind, Cold, And Skyline To Advance To Class 1 Title Game
Bookmark this article at these sites