News : Felony Charges Filed Against Chillicothe Man
Posted by Randy

on 2013/7/29 10:58:52

(

1178 reads

) News by the same author
Felony charges were filed today in Livingston County in connection with a man accused of alleged involvement in what Chillicothe Police called a domestic dispute.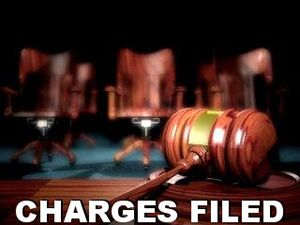 27 year old Travis Hogan is charged with domestic assault in the first degree, inflicting serious physical injury to another person on Saturday.

Chillicothe Police, in a news release, said the incident happened in the 14-hundred block of Bryan Street. Chillicothe Police reported a female victim was injured and later transported to St. Luke's of Kansas City. Police indicated the woman, who's name was not released, sustained what is called non life-threatening injuries.

The news item from Chillicothe Police over the weekend described Hogan as being from Chillicothe. On-line court records today for Livingston County show Travis Hogan with an address on Route Z at Dawn.
Other articles
2014/11/24 17:20:58 - Princeton Boys Seeded #2 For Albany Tournament
2014/11/24 16:50:00 - Milan To Open 2014-2015 Basketball Season At Novinger Tournament
2014/11/24 12:00:25 - Trenton Boys Sweep Cameron Jamboree, Prepare For East Buchanan
2014/11/24 11:32:36 - KC Chiefs Add Receiving Depth, Signing Jason Avant
2014/11/24 11:21:24 - Gallatin Girls, Trenton Boys Earn #1 Seeds At Gallatin Tourney
2014/11/24 10:52:24 - Michaelis Notches Career High 17, Mizzou Falls To #14 California
2014/11/24 10:41:08 - Trenton Girls Open Season With Home Jamboree
2014/11/24 10:00:00 - Furious Last Minute Rally Moves NCMC Men To 8-1
2014/11/24 9:50:26 - Holiday Parade Winners At Chillicothe Announced
2014/11/24 9:50:00 - Despite Career-High 28 From Santos, NCMC Women Fall to 4-6
2014/11/24 9:47:36 - Chillicothe Recognized As "Crown Community"
2014/11/24 9:43:55 - Trenton City Council Finance Committee Meets
2014/11/24 9:42:08 - Seven Parks, Including Crowder State Park To Close December 13th And 14th
2014/11/24 9:38:19 - Variety Of Topics Addressed At Princeton Chamber Meeting
2014/11/24 9:33:42 - Eleven NCMC Students Qualify For Contests At National Convention
2014/11/24 9:27:09 - Snow And Ice Policy On Agenda For Trenton City Council
2014/11/24 9:25:34 - Sunnyview Announces Employees Of The Month
2014/11/24 9:23:31 - Thanksgiving Meal For Ten Up $1.11 From Last Year
2014/11/24 9:20:34 - WMH Announces Employee Of The Quarter
2014/11/24 9:20:00 - TMS Girls Move To Perfect 5-0, Beating Carrollton 34-21
2014/11/24 9:00:00 - Westran Wins All-Hornet Shootout At Hamilton, 48-39
2014/11/24 8:30:28 - Mizzou Wins On Rocky Top, 29-21, Arkansas Next
2014/11/24 4:37:54 - Supreme Court Case Tests Limits Of Free Speech On Social Media
2014/11/24 4:26:33 - Body Of Missing Missouri Man Found: Acquaintance Charged With Murder
2014/11/24 4:23:23 - Savannah Teens Drown After Falling Through Ice On Farm Pond
2014/11/24 4:20:34 - Merry Marijuana: Pot Sellers Woo Holiday Shoppers
2014/11/24 4:17:39 - Camden Man Sentenced For Illegal Firearm After Deer Decoy Used In Ray County
2014/11/24 4:15:32 - 13 Charged In $1 Million Drug-Trafficking Conspiracy
2014/11/24 4:05:55 - Unemployment Rate Falls To Lowest Level Since 2008
2014/11/24 4:02:23 - Soiree Raises Over Two Thousand For Local Veterans
Bookmark this article at these sites