News : Mercer County Sheriff's Department Receives Honors
Posted by Randy

on 2013/7/29 9:48:04

(

640 reads

) News by the same author
Sheriff Steve Stockman has been named Sheriff of the Year by the Missouri Deputy Sheriffs' Association.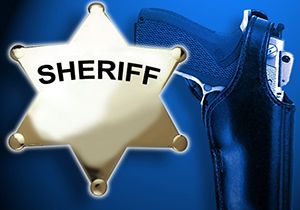 A deputy now with the Mercer county sheriffs' office, Jimmy See, has been selected as the deputy of the year by the same association. The recognition was posted on a Facebook site for the Mercer County Sheriff's department.

Jimmy See, prior to taking the Mercer County job, was a deputy for the Grundy County sheriff's department.

The awards ceremony by the deputy sheriff's association will be August 6th at a Lake of the Ozarks location. It will be part of the 26th annual training session.

Lou Collobert of Mercer County is listed as the president of the Missouri deputy sheriffs' association.

The association was founded 25 years ago (1988) representing deputies, jailers, county detention or corrections officers, and others employed by a sheriff's department.
Other articles
2015/12/1 13:30:00 - Royals Pitchers And Catchers Report To Surprise, Arizona On February 18
2015/12/1 12:50:00 - Mercer Cardinals Sweep Mormon Trail, Improve To 2-0
2015/12/1 12:10:00 - Woman Gets Potentially Deadly Infection From Wearing Hair-Ties On Wrist, Doctor Says
2015/12/1 11:57:43 - Four-Year Old Donates To NCMC's Geyer Hall Project
2015/12/1 11:19:31 - Winston Jumps Maysville Early, Holds On For Gallatin Tournament Win
2015/12/1 10:57:58 - Stanberry Bulldogs Dominate In Albany Tournament's First Night
2015/12/1 10:48:47 - CHS Hornets Beat Platte County, Advance To Savannah Semifinals
2015/12/1 10:36:12 - Defending State Champions Beat BMC At Northwestern Tournament
2015/12/1 10:27:37 - Milan Loses Hoops Openers At Novinger Tournament
2015/12/1 8:54:36 - Grundy R-5 Coaches Shows For Monday, 11/30/15
2015/12/1 8:45:44 - Mercer Cardinal Coaches Shows For Monday, 11/30/15
2015/12/1 8:10:00 - Valle Catholic Rolls Penney In Class 1 State Title Game
2015/12/1 7:50:25 - MU Women Win California Tournament, Improve To 7-0
2015/12/1 7:50:00 - Trenton Native Named Interim Head Coach At Mizzou
2015/12/1 5:40:00 - Woman, Two Young Children, Injured In Daviess County Accident
2015/12/1 5:24:35 - Winter Storm Dumps Snow On Northern Plains
2015/12/1 4:27:00 - No Charges Filed After Boy, 13 Shot Dead For Stealing
2015/12/1 4:11:58 - City Of Columbia Will Determine Whether MU Professor Is Prosecuted For Assault
2015/12/1 4:06:54 - Nashville Mom Drives Car Into Pond With 3 Children Inside
2015/12/1 4:00:43 - Braymer Man Pleads Guilty To $300,000 Cattle Fraud
2015/11/30 14:47:47 - Saturday To Be Busy With Events In Princeton
2015/11/30 14:40:44 - Trenton Teen Charged With Hindering Prosecution
2015/11/30 14:38:02 - Stewartsville Man Identified In Officer-Involved Shooting Sunday
2015/11/30 14:31:28 - Jameson Read Sentenced To 21 Years In Prison For 2013 Murder
2015/11/30 14:17:49 - Independence Man Charged With Attempting To Rob Pastor
2015/11/30 9:05:33 - Collins' 3 TDs Leads Arkansas Past Missouri 28-3
2015/11/30 9:01:46 - Chiefs Hold Off Bills 30-22 For Fifth Straight Win
2015/11/30 7:48:23 - Mizzou Teaching Assistant Arrested For Pulling Hair, Slapping 14-Year-Old For Not Wearing Hijab
2015/11/30 7:42:38 - Proposal To Be Filed Tomorrow Would Have Missouri Offset The Cost Of Adoptions
2015/11/30 5:40:00 - Gallatin Woman Receives Minor Injuries In Highway 13 Accident
Bookmark this article at these sites