News : Jameson Picnic Going Strong For 122 Years
Posted by Randy

on 2013/7/29 9:39:17

(

834 reads

) News by the same author
The 122nd annual Jameson Picnic runs August 8th through 10th at Jameson city park.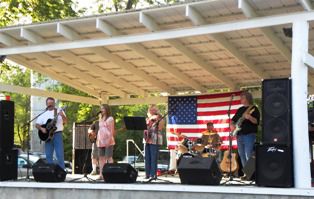 Entertainment the night of August 8th features a talent show at 6 o'clock in which persons of all ages may participate. There's also country music that night by Saturation Point at 8:30.

Friday August 9th, a baby show will be featured, along with the Little Mr. And Miss scheduled at 6:30, registration at 6 o'clock for children ages four and younger.

1950s and 60s music by the Fabulous Torques will be featured at 8 o'clock August 9th.

The Jameson Picnic schedule on Saturday August 10 includes a parade at 11 o'clock featuring a reconstructed Jameson horse drawn school wagon in the parade. A Dinner is to be served after the parade.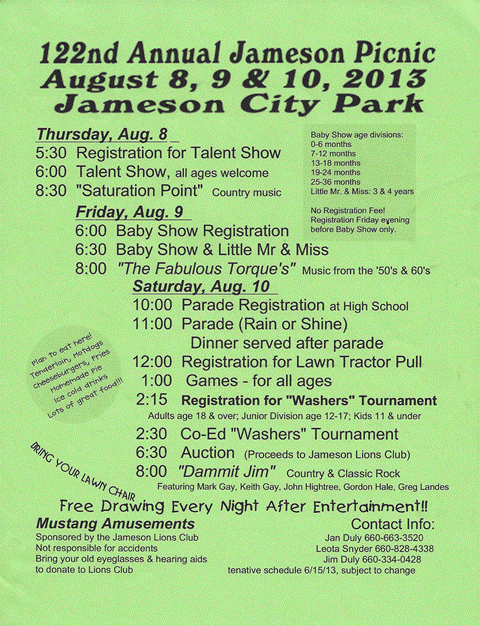 Click Photo To Enlarge




The wagon is to be available after the parade for rides and photographs. Persons are asked to share memories of riding a wagon to the Jameson school. They are to be displayed in the Jameson Community Museum as well as the website. Memories are to mailed to Post Office box 156 at Jameson.

Registration for a lawn tractor pull is at noon, followed by the competition.

Games for all ages begin at 1 o'clock, with a co-ed washer tournament at 2:30, an auction to benefit the Jameson lions club at 6:30, with country and classic rock music at 8 o'clock the night of August 10th at the Jameson picnic.

Mustang Amusements will feature various rides . The events are sponsored by the Jameson Lions Club.

Persons are encouraged to take their old eyeglasses and hearing aids to donate to the lions club.
Bookmark this article at these sites