Accidents : Hamilton Man Injured In 3 Vehicle Accident.
Posted by Randy

on 2013/7/29 5:43:26

(

883 reads

) News by the same author
A motorcyclist was hurt early Sunday in a three vehicle accident west of Chillicothe on highway 36.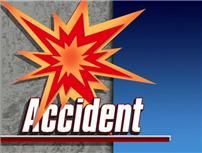 24-year old Jason Blake of Hamilton was taken to Hedrick Medical Center at Chillicothe. The highway patrol said Blakely had moderate injuries. The accident was one mile west of Chillicothe on Westbound highway 36.

The investigating officer said a car driven by 20-year old McCall Prewitt of Braymer hit the rear of a car driven by 57-year old Debra Peterson of Ogden, Utah.

After the impact, the car operated by Ms. Prewitt swerved into the passing lane where Ms. Prewitt's vehicle was hit in the rear by the motorcycle operated by Blakely. The patrol said the motorcycle was laid down, ejecting blakely.

The patrol said Debra Peterson of Ogden, Utah pulled Blakely out of the passing lane.

Debra Peterson and McCall prewitt were not reported hurt. Damage was listed as extensive to Ms. Prewitt's car, and minor to Ms. Peterson's vehicle. The motorcycle was demolished. All three persons were wearing safety devices.
Bookmark this article at these sites