News : Museum Announces Rope Making Demonstration
Posted by Randy

on 2013/7/25 4:44:29

(

293 reads

) News by the same author
The Grundy county museum has announced a rope making demonstration, scheduled Saturday afternoon in the courtyard area. John Keith and Wilber Perry will present the rope making Saturday from 2:30 until 4:30.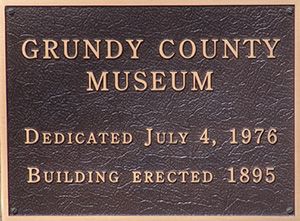 Ropes, suitable for use as jump ropes, will be given to children in attendance.

The Grundy County Museum at Trenton is open weekend afternoons from 2 until 5 o'clock. It's also open on holidays

The current feature is "Made in Grundy County." Admission is two dollars for adults. Children ages 12 and younger get in free.
Bookmark this article at these sites