Accidents : Two Teens Injured In Accident
Posted by Randy

on 2013/7/22 4:53:38

(

1434 reads

) News by the same author
A pick-up truck overturned several times south of Meadville Saturday night injuring two Meadville residents. Both persons were thrown from the vehicle.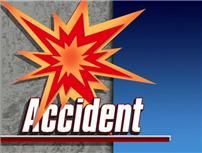 The highway patrol said the driver, Derek Smith, and a passenger, Mason Kiehl, both 18, were flown by medical helicopter to University Jospital at Columbia with serious injuries.

The accident was two miles south of Meadville on Linn county Route W.

The patrol said the southbound pickup went out of control, traveled off the left side of the road, and overturned several times, coming to rest on its top in a ditch. The truck was demolished.
Other articles
2015/1/29 4:34:12 - Woman Slashes Her Children's Throats To Quiet Them, Police Say
2015/1/29 4:17:27 - Groups Discuss Privacy Issues Related To Body Cameras
2015/1/29 4:13:52 - Springfield Officer Shot In Line Of Duty Has "Career Ending Injury"
2015/1/29 4:07:42 - Tape: Scientist Offers To Build Nuclear Bomb Targeting New York
2015/1/29 4:03:05 - Missouri Lawmakers, Elected Officials Likely To Get Pay Raise
2015/1/29 4:00:32 - Mother Unknowingly Shuttles Weed In Van For 13 Years
2015/1/29 3:56:19 - Police: Man Arrested For Dragging Officer With Vehicle
2015/1/29 3:53:31 - Missouri Airport Police Officer Faces Child Porn Charge
2015/1/28 13:00:00 - NASA's Challenger Exploded 29 Years Ago Today
2015/1/28 11:40:00 - Trenton Bulldog Coaches Shows For Wednesday, 1/28/15
2015/1/28 11:11:43 - Northern Missouri Remains Well-Represented In High School Hoops Poll
2015/1/28 10:22:16 - Trenton JV Boys Fall To Chillicothe, 63-50
2015/1/28 10:07:08 - Balanced Hornets Mow Through Excelsior Springs In Cameron Quarterfinal
2015/1/28 9:54:54 - Princeton Tramples Union Star, Moves To Gilman City Semifinals
2015/1/28 9:44:52 - Electric Rates Remain Hot Topic At Latest Meeting
2015/1/28 9:41:15 - Gallatin Board Of Aldermen Meeting Report
2015/1/28 9:39:20 - Linn County Mustangs Advance To Meadville Semifinals
2015/1/28 9:38:37 - County Budget Topic Of Latest Meeting
2015/1/28 9:34:41 - Newtown Resident Injured In Highway 136 Accident
2015/1/28 9:00:00 - Flowers Game Winner Sends Trenton To Hamilton Semifinals
2015/1/28 8:31:00 - Chillicothe Grapplers Spoil Trenton's Senior Night, 51-21
2015/1/28 8:10:00 - Missouri Adds Two Weekend Commitments, Including Elite Dallas Receiver
2015/1/28 7:53:23 - With Signing Day Approaching, Mizzou Keeps Veteran D-Line Coach
2015/1/28 6:37:14 - Gallatin Resident Injured In Motorcycle Accident
2015/1/28 5:28:27 - Four Osceola Residents Charged In Double Murder Investigation
2015/1/28 4:40:00 - GoDaddy Pulls Super Bowl XLIX Puppy Ad After Backlash, Petition
2015/1/28 4:23:56 - Teen Mocks Principal's Looks On Facebook, Gets Expelled
2015/1/28 4:20:00 - 'Zombie Cat' Claws Way Out Of Grave And Into Our Hearts
2015/1/28 4:10:00 - Parents Charged In Dog Attack That Killed Toddler
2015/1/28 4:06:56 - Suspect Arrested In Kentucky After Carjacking
Bookmark this article at these sites