News : Habitat For Humanity To Host Ceremony
Posted by Randy

on 2013/7/19 10:24:11

(

703 reads

) News by the same author
On Sunday, July 28, Chillicothe Area Habitat for Humanity will host a home dedication ceremony at 1547 Polk Street, Chillicothe, Missouri, to celebrate the construction of the newest Habitat home.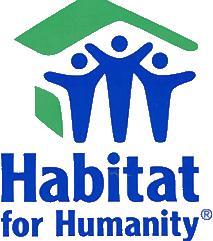 The dedication marks the thirteenth Habitat home built by the local chapter.

The dedication ceremony will begin at 2 pm and last about 30 minutes. An open house will continue until around 3 pm. Habitat volunteers, supporters, and well-wishers in the community are all invited to join in the celebration. Habitat would be honored if you can join us for the ceremony or open house.

With the next project kicking off in the very near future, a unique fundraising effort is currently underway. Livingston County Presiding Commissioner Eva Danner Horton, who served on the Habitat for Humanity Board for a number of years, has published a cookbook titled, "Eva and Friends-Our Very Best Recipes".

The book offers a treasured collection of some of her family and friends' favorite recipes. The 300 recipes featured in the book include appetizers, soups, salads, main dishes, desserts, cookies, and much more! All proceeds benefit the Chillicothe Area Habitat for Humanity. Cookbooks are priced at $15 and are available at Country Corner Craft and Antique Mall and Francine's Pastry Parlor, both in Chillicothe. Books will also be available at the home dedication ceremony on July 28.



Click Image To Enlarge





Chillicothe Area Habitat for Humanity is an ecumenical Christian housing ministry that seeks to eliminate poverty housing and homelessness from the world. To help families which otherwise would not be able to afford simple, decent housing, Habitat requires qualifying partner families to faithfully put in "sweat equity" hours into building habitat homes before they may qualify to buy a habitat home at costs and with no-interest mortgages over a fixed period. Habitat partner families are selected based on their need, interest to partner, and ability to pay. Habitat does not discriminate based on a person's race, color, creed, religion, sex, disability, familial status, or national origin.
Other articles
2014/12/18 12:30:00 - Ankle Bracelet Helps Police Catch Suspected Burglar
2014/12/18 12:27:33 - THS Freshmen Split With Cameron Dragons
2014/12/18 12:20:24 - Tri-County Conference Rivals Split Hoops Doubleheader
2014/12/18 12:15:46 - U.S. Officials Blame North Korea For Sony Hack
2014/12/18 12:06:48 - U.S. Kills Three ISIS Leaders in Iraq Strikes, Officials Say
2014/12/18 11:30:00 - Milan Wildcats Find Struggles At Knox County, Lose Stallbaumer To Injury
2014/12/18 11:28:41 - Hornets Stay Red-Hot, Sweep Macon
2014/12/18 11:21:10 - St. Joseph Truck Driver Convicted in Child Prostitution Case
2014/12/18 11:16:36 - Lafayette Girls Upend Hamilton, 45-40, Head To Trenton On Saturday
2014/12/18 5:50:00 - School Announcements For Thursday (7:41 AM Update)
2014/12/17 13:22:19 - Could Alcatraz Escapees From '62 Have Survived?
2014/12/17 13:10:28 - Waco, Texas Meteorologist Shot Outside TV Station
2014/12/17 13:10:00 - St. Joseph Mom Accused Of Starving Baby To Death
2014/12/17 11:20:00 - Trenton Bulldog Coaches Shows For Wednesday, 12/17/14
2014/12/17 10:16:42 - 19th Century Worth County Court Cases Added To Statewide Database
2014/12/17 10:10:30 - Livingston County Investigating Property Damage Reports
2014/12/17 10:02:39 - Hamilton Woman Wins NCMC Scholarship
2014/12/17 9:40:00 - Trenton Tames The Tigers, Awaits Gallatin Visit
2014/12/17 9:30:00 - KC Royals Officially Announce Kendrys Morales Signing
2014/12/17 9:10:00 - Trenton Police Department Begins Body Camera Usage
2014/12/17 8:43:30 - MCT Seeks Actors/Actresses To Perform "The Jungle Book"
2014/12/17 8:30:00 - Indiana Woman Wishes To Be Buried With Her Dog, But.........
2014/12/17 8:30:00 - Young Ohio Woman Continues Public Battle With Brain Cancer
2014/12/17 8:10:00 - Sony Pictures Hack Takes Yet Another Weird Twist
2014/12/17 8:10:00 - Carrollton Hospital Hosts Ground-Breaking Ceremony
2014/12/17 8:10:00 - AP Sources: US, Cuba Seek To Normalize Relations
2014/12/17 7:50:00 - Sunnyview Honors Gastineau As "Employee Of The Month"
2014/12/17 7:48:25 - Show-Me-Select Heifers Set Record Price At Palmyra
2014/12/17 7:34:10 - Adair County Collision Injures Green Castle Teen
2014/12/17 7:31:41 - MDC Seeks Public Opinion On Shooting Ranges
Bookmark this article at these sites