News : Mercer And Livingston County Fair Activities
Posted by Randy

on 2013/7/17 4:39:52

(

435 reads

) News by the same author
Several events are scheduled today and tonight for the Mercer county and Livingston county fairs.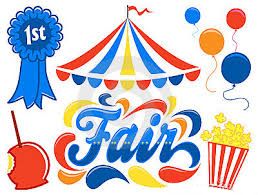 At Princeton, registration begins at 8 o'clock with the rabbit show at 10 and the poultry show to follow. Mercer County Farm Bureau offers an appreciation luncheon from 11 until 1:30 on the fairgrounds. Tonight, free inflatable rides will be available from 6 until 10 o'clock. The super farmer contest is scheduled at 7 pm on the lower fairgrounds. There is a ten dollar entry fee for each team of one male and one female. Various farm chore events are part of the timed competition. Prize money of 100 dollars, 75 dollars, and 50 dollars will be awarded for first through third places.

For the Livingston county fair near Chillicothe, all livestock is to be in place by 11 o'clock. The events include the poultry show in the north barn as well as the swine show at 1 o'clock. Commercial booths are set up in the expo center from 3 until 8 o'clock. 4-H demonstrations and the 4-H entrepreneurship market are at the Litton building. And tonight, a talent show is scheduled at 7 o'clock in the outdoor arena for the Livingston county fairgrounds near Chillicothe.
Other articles
2015/3/27 9:00:09 - Malta Bend Man Catches Record-Breaking Catfish In the Missouri River
2015/3/27 9:00:00 - THS Graduate Rebekah Capeder Named NAIA Honorable Mention All-American
2015/3/27 8:40:00 - Trenton Residents Meet, Brainstorm Ideas To Improve City
2015/3/27 8:37:34 - Health Center Hosts Open House To Kick Off Public Health Month
2015/3/27 8:31:22 - Gun Show Coming To Marceline This Weekend
2015/3/27 8:26:02 - State To Fully Fund A+ Program In Spring Term
2015/3/27 8:22:55 - Huffington Post Names NCMC As "Top Ten" Community College In U.S.
2015/3/27 8:20:57 - Senator McCaskill To Host Senior Listening Session In Chillicothe
2015/3/27 7:49:44 - MoDOT Warns Of Potential Bridge Closings, Without Financial Help
2015/3/27 7:41:46 - Vehicle Reported Stolen In Chillicothe, Recovered In Springfield
2015/3/27 7:38:22 - Chillicothe Police Arrest Two On Substance Possession Charges
2015/3/27 7:33:16 - Chillicothe Accident Sends Elderly Woman To Liberty Hospital
2015/3/27 7:29:47 - Two Vehicle Accident Injures Bogard Woman
2015/3/27 7:24:41 - Discount Offered On May 2016 NCMC Group Trip To Europe
2015/3/27 7:22:51 - NCMC Chooses Trenton Native As "Academic Excellence" Award Winner
2015/3/26 13:40:00 - Livingston County SUV-Buggy Collision Kills 10 Year Old Boy
2015/3/26 13:35:45 - Grundy R-5 Hires New Vo-Ag Teacher
2015/3/26 9:50:00 - Wright Memorial Highlights Donation In Hospital Improvement Efforts
2015/3/26 9:28:22 - "Town Hall" Meeting To Be Held Tonight In Trenton
2015/3/26 9:14:46 - Grundy County Route J, North Of Galt, Closed Until 3 PM
2015/3/26 9:00:00 - Mizzou Women Play Michigan Tonight, In WNIT Third-Round Game
2015/3/26 8:50:32 - Mizzou To Lose Associate Head Coach Tim Fuller
2015/3/26 8:42:57 - Tough Elgin CC Squad Doubles Up NCMC Pirates In South Carolina
2015/3/26 8:40:00 - Royals Go With Ventura As Opening Day Starter
2015/3/26 7:58:05 - Accident Near King City Injures Four, Results In DWI Arrest
2015/3/25 9:50:00 - Newtown-Harris To Host Benefit Basketball Game, Supper, And Auction
2015/3/25 9:43:23 - Trenton Police Conduct Task Force Operation, Targeting Underage Drinking
2015/3/25 9:33:01 - World-Class Pianist To Perform In Chillicothe This Weekend
2015/3/25 9:13:00 - Trenton City Hall's Front Office Closed Through Rest Of Week
2015/3/25 9:02:50 - Gallatin Purchases Water Plant Materials From Trenton
Bookmark this article at these sites