Accidents : 5 Receive Injuries In Mercer County Accident
Posted by Randy

on 2013/7/16 9:30:00

(

839 reads

) News by the same author
The highway patrol reports one person was transported by ambulance when a total of five people received minor injuries yesterday afternoon in a Mercer County traffic accident. It happened six miles east of Princeton.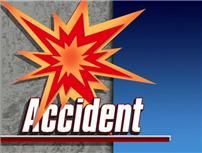 Taken to Wright Memorial Hospital in Trenton was one driver, 69 year old Kenneth DeMoss of Princeton. His wife and two passengers were treated and released at the scene. They are 79 year old Carole DeMoss of Princeton as well as
74 year old Fred Gansemer and 72 year old Juanita Gansemer—both of Delhi, Iowa.

Also receiving what the patrol called minor injuries was the other driver: 46 year old Russell Jennings of Princeton.

An investigator reported DeMoss was northbound on Route C, approaching the intersection with Florence Avenue.

Jenning's car was westbound on Florence. The patrol said Jennings allegedly failed to yield and pulled out in front of DeMoss' sports utility vehicle. The crash has demolished both the S-U-V and car. All persons were using seat belts.
Other articles
2015/1/29 8:48:47 - Second Child Dies After Parents Use Prayer, No Medicine
2015/1/29 8:30:00 - Police: Woman Filmed Porn At College Library
2015/1/29 8:20:00 - Teen Forced To Wear Winter Coat, Or Leave School Dance
2015/1/29 4:34:12 - Woman Slashes Her Children's Throats To Quiet Them, Police Say
2015/1/29 4:17:27 - Groups Discuss Privacy Issues Related To Body Cameras
2015/1/29 4:13:52 - Springfield Officer Shot In Line Of Duty Has "Career Ending Injury"
2015/1/29 4:07:42 - Tape: Scientist Offers To Build Nuclear Bomb Targeting New York
2015/1/29 4:03:05 - Missouri Lawmakers, Elected Officials Likely To Get Pay Raise
2015/1/29 4:00:32 - Mother Unknowingly Shuttles Weed In Van For 13 Years
2015/1/29 4:00:00 - Missouri Airport Police Officer Faces Child Porn Charge
2015/1/29 3:56:19 - Police: Man Arrested For Dragging Officer With Vehicle
2015/1/28 13:00:00 - NASA's Challenger Exploded 29 Years Ago Today
2015/1/28 11:40:00 - Trenton Bulldog Coaches Shows For Wednesday, 1/28/15
2015/1/28 11:11:43 - Northern Missouri Remains Well-Represented In High School Hoops Poll
2015/1/28 10:22:16 - Trenton JV Boys Fall To Chillicothe, 63-50
2015/1/28 10:07:08 - Balanced Hornets Mow Through Excelsior Springs In Cameron Quarterfinal
2015/1/28 9:54:54 - Princeton Tramples Union Star, Moves To Gilman City Semifinals
2015/1/28 9:44:52 - Electric Rates Remain Hot Topic At Latest Meeting
2015/1/28 9:41:15 - Gallatin Board Of Aldermen Meeting Report
2015/1/28 9:39:20 - Linn County Mustangs Advance To Meadville Semifinals
2015/1/28 9:38:37 - County Budget Topic Of Latest Meeting
2015/1/28 9:34:41 - Newtown Resident Injured In Highway 136 Accident
2015/1/28 9:00:00 - Flowers Game Winner Sends Trenton To Hamilton Semifinals
2015/1/28 8:31:00 - Chillicothe Grapplers Spoil Trenton's Senior Night, 51-21
2015/1/28 8:10:00 - Missouri Adds Two Weekend Commitments, Including Elite Dallas Receiver
2015/1/28 7:53:23 - With Signing Day Approaching, Mizzou Keeps Veteran D-Line Coach
2015/1/28 6:37:14 - Gallatin Resident Injured In Motorcycle Accident
2015/1/28 5:28:27 - Four Osceola Residents Charged In Double Murder Investigation
2015/1/28 4:40:00 - GoDaddy Pulls Super Bowl XLIX Puppy Ad After Backlash, Petition
2015/1/28 4:23:56 - Teen Mocks Principal's Looks On Facebook, Gets Expelled
Bookmark this article at these sites