News : Area Residents Participate In Patrol Academy
Posted by Randy

on 2013/7/15 4:38:06

(

554 reads

) News by the same author
Three area residents were among 39 participants in a Cadet patrol academy at Jefferson City.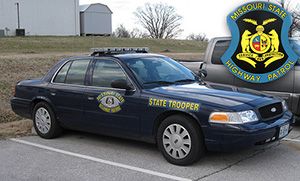 Charlie Hoffman of Trenton, Matthew Huskey of Pattonsburg, and Kale Thieme of Meadville took part in the program. It was comprised of a typical week of Highway patrol recruit training.

The program, sponsored by the American legion, is for youths ages 16 through 18 who have a grade average of ā€œCā€ or higher, be of good moral character, well groomed, and recommend by high school officials. Home schooled students meeting the ā€œCā€ average requirement also are eligible.

The participants also are to have an interest in pursuing a career in the criminal justice system. Charlie Hoffman of Trenton received a physical fitness award during the academy.

Other articles
2015/3/27 9:00:09 - Malta Bend Man Catches Record-Breaking Catfish In the Missouri River
2015/3/27 9:00:00 - THS Graduate Rebekah Capeder Named NAIA Honorable Mention All-American
2015/3/27 8:40:00 - Trenton Residents Meet, Brainstorm Ideas To Improve City
2015/3/27 8:37:34 - Health Center Hosts Open House To Kick Off Public Health Month
2015/3/27 8:31:22 - Gun Show Coming To Marceline This Weekend
2015/3/27 8:26:02 - State To Fully Fund A+ Program In Spring Term
2015/3/27 8:22:55 - Huffington Post Names NCMC As "Top Ten" Community College In U.S.
2015/3/27 8:20:57 - Senator McCaskill To Host Senior Listening Session In Chillicothe
2015/3/27 7:49:44 - MoDOT Warns Of Potential Bridge Closings, Without Financial Help
2015/3/27 7:41:46 - Vehicle Reported Stolen In Chillicothe, Recovered In Springfield
2015/3/27 7:38:22 - Chillicothe Police Arrest Two On Substance Possession Charges
2015/3/27 7:33:16 - Chillicothe Accident Sends Elderly Woman To Liberty Hospital
2015/3/27 7:29:47 - Two Vehicle Accident Injures Bogard Woman
2015/3/27 7:24:41 - Discount Offered On May 2016 NCMC Group Trip To Europe
2015/3/27 7:22:51 - NCMC Chooses Trenton Native As "Academic Excellence" Award Winner
2015/3/26 13:40:00 - Livingston County SUV-Buggy Collision Kills 10 Year Old Boy
2015/3/26 13:35:45 - Grundy R-5 Hires New Vo-Ag Teacher
2015/3/26 9:50:00 - Wright Memorial Highlights Donation In Hospital Improvement Efforts
2015/3/26 9:28:22 - "Town Hall" Meeting To Be Held Tonight In Trenton
2015/3/26 9:14:46 - Grundy County Route J, North Of Galt, Closed Until 3 PM
2015/3/26 9:00:00 - Mizzou Women Play Michigan Tonight, In WNIT Third-Round Game
2015/3/26 8:50:32 - Mizzou To Lose Associate Head Coach Tim Fuller
2015/3/26 8:42:57 - Tough Elgin CC Squad Doubles Up NCMC Pirates In South Carolina
2015/3/26 8:40:00 - Royals Go With Ventura As Opening Day Starter
2015/3/26 7:58:05 - Accident Near King City Injures Four, Results In DWI Arrest
2015/3/25 9:50:00 - Newtown-Harris To Host Benefit Basketball Game, Supper, And Auction
2015/3/25 9:43:23 - Trenton Police Conduct Task Force Operation, Targeting Underage Drinking
2015/3/25 9:33:01 - World-Class Pianist To Perform In Chillicothe This Weekend
2015/3/25 9:13:00 - Trenton City Hall's Front Office Closed Through Rest Of Week
2015/3/25 9:02:50 - Gallatin Purchases Water Plant Materials From Trenton
Bookmark this article at these sites