News : Missouri Day Flags Available For Sponsorship
Posted by Randy

on 2013/7/10 9:39:46

(

449 reads

) News by the same author
The Trenton Rotary Club today announced that over half of the flags for the upcoming Missouri Day Festival Parade have been sponsored.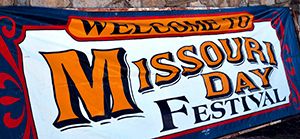 In an effort to display both the American flag and the Missouri state flag, individual flags are available for sponsorship and will be mounted on poles from 9th and Main to the overpass at Hwy 65. Flags are currently on display on Main Street and around the Court House during the Festival but this addition will complete the parade route.

The two types of flags will be alternated on the poles and plans are in place to continue displaying the flags for many Missouri Day Festivals to come. Flag sponsorship are available for $50.00 each and the sponsorship will be good for three years for the $50.00 investment. Names of sponsors will be promoted though the media and will not be placed on the flags as in the past. Flags will be 4 feet by 6 feet and of nylon fabric.

Although smaller flags were sold last year at a lesser price, over 2500 were sold and the response this year has been excellent once again. Rotarians encourage patrons to honor loved ones with flags in memory or in honor of veterans, families or businesses/organizations.

Persons wanting to sponsor a flag may contact either Steve Maxey at 359-7244 or Rick KIinginsmith at 359-2274, parade co-chairmen. Flags will be placed on the poles during Festival week-end creating a welcome sight to all parade participants and viewers as well as a special tribute to both Missouri and the United States during this state holiday.
Bookmark this article at these sites