News : Missouri Day Flags Available For Sponsorship
Posted by Randy

on 2013/7/10 9:39:46

(

389 reads

) News by the same author
The Trenton Rotary Club today announced that over half of the flags for the upcoming Missouri Day Festival Parade have been sponsored.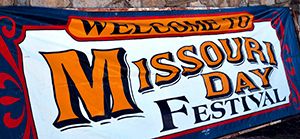 In an effort to display both the American flag and the Missouri state flag, individual flags are available for sponsorship and will be mounted on poles from 9th and Main to the overpass at Hwy 65. Flags are currently on display on Main Street and around the Court House during the Festival but this addition will complete the parade route.

The two types of flags will be alternated on the poles and plans are in place to continue displaying the flags for many Missouri Day Festivals to come. Flag sponsorship are available for $50.00 each and the sponsorship will be good for three years for the $50.00 investment. Names of sponsors will be promoted though the media and will not be placed on the flags as in the past. Flags will be 4 feet by 6 feet and of nylon fabric.

Although smaller flags were sold last year at a lesser price, over 2500 were sold and the response this year has been excellent once again. Rotarians encourage patrons to honor loved ones with flags in memory or in honor of veterans, families or businesses/organizations.

Persons wanting to sponsor a flag may contact either Steve Maxey at 359-7244 or Rick KIinginsmith at 359-2274, parade co-chairmen. Flags will be placed on the poles during Festival week-end creating a welcome sight to all parade participants and viewers as well as a special tribute to both Missouri and the United States during this state holiday.
Other articles
2014/12/19 17:20:11 - KC Royals Sign Starting Pitcher Edinson Volquez
2014/12/19 17:20:00 - Medlen In, Giavotella Out In Kansas City
2014/12/19 17:16:45 - California JUCO Player Verbals To Mizzou
2014/12/19 17:09:57 - Chillicothe Man Involved In I-435 Multi-Vehicle Accident
2014/12/19 17:04:42 - Thursday Accident Near Newtown Injures Area Women
2014/12/19 17:00:52 - Moore Files For Chillicothe Councilman-At-Large
2014/12/19 16:56:56 - Trial for Trenton Man Accused Of Murder Begins In January
2014/12/19 16:50:42 - Princeton Medical Clinic Adds X-Rays
2014/12/19 16:46:25 - Unionville Man Wins Patrol Trooper Award
2014/12/19 16:41:05 - Friday Morning Wreck Injures Cameron Man
2014/12/19 16:37:52 - Bethany Native Resigns Maryville Superintendent Position
2014/12/18 15:10:26 - 550 Million Year Old Fossils Provide New Clues about Fossil Formation
2014/12/18 15:10:00 - Daniel, Maclin, Coffman Highlight Mizzou's 2014 Hall Of Fame Class
2014/12/18 15:03:45 - Gallatin Man Organizing Regional Horticulture Conference
2014/12/18 14:58:51 - Upgraded Ketcham Center Set To Host 10th Annual Holiday Hoops
2014/12/18 14:48:10 - Royals Add To Pitching Staff, Signing Ex-Atlanta Brave Kris Medlen
2014/12/18 14:31:14 - Buchanan County Inmate Found Dead
2014/12/18 14:26:33 - Thursday Morning Accident Injures Jamesport Man
2014/12/18 12:30:00 - Ankle Bracelet Helps Police Catch Suspected Burglar
2014/12/18 12:27:33 - THS Freshmen Split With Cameron Dragons
2014/12/18 12:20:24 - Tri-County Conference Rivals Split Hoops Doubleheader
2014/12/18 12:15:46 - U.S. Officials Blame North Korea For Sony Hack
2014/12/18 12:06:48 - U.S. Kills Three ISIS Leaders in Iraq Strikes, Officials Say
2014/12/18 11:30:00 - Milan Wildcats Find Struggles At Knox County, Lose Stallbaumer To Injury
2014/12/18 11:28:41 - Hornets Stay Red-Hot, Sweep Macon
2014/12/18 11:21:10 - St. Joseph Truck Driver Convicted in Child Prostitution Case
2014/12/18 11:16:36 - Lafayette Girls Upend Hamilton, 45-40, Head To Trenton On Saturday
2014/12/18 5:50:00 - School Announcements For Thursday (7:41 AM Update)
2014/12/17 13:22:19 - Could Alcatraz Escapees From '62 Have Survived?
2014/12/17 13:10:28 - Waco, Texas Meteorologist Shot Outside TV Station
Bookmark this article at these sites