Fires : Two Teenagers Detained After Fire In Kirksville
Posted by Randy

on 2013/7/5 13:14:26

(

1543 reads

) News by the same author
Two 16-year-old teenagers were detained after allegedly burning down a trailer in the Wal-Mart parking lot with fireworks Thursday at Kirksville.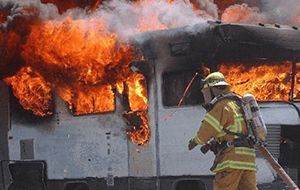 The two teenagers were detained by the Kirksville Police Department after the duo lit fireworks off inside a tractor trailer owned by Community Opportunities. The trailer, which had been located in the southwest area of the Wal-Mart parking lot, was full of paper recyclable items.

The trailer was fully involved in fire when the Kirksville Fire Department responded to the scene, at about 4 a.m. Thursday. According to Kirksville Fire Department, the trailer is a total loss and was valued at about $12,000.

The two teenagers were taken into custody at Bruce Normile Juvenile Detention Center in Kirksville. No injuries were reported in connection with the fire.
Bookmark this article at these sites