Accidents : Newtown Resident Hurt In Accident
Posted by Randy

on 2013/7/5 6:30:06

(

915 reads

) News by the same author
Two persons were hurt, one seriously, when a pickup truck overturned east of Harris yesterday afternoon.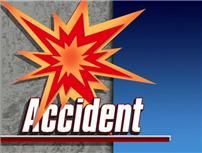 The driver, 20 year old David Duke of Newtown, was flown by medical helicopter to Iowa Methodist hospital with what the highway patrol called serious injuries.

The patrol said a passenger, 22-year old Tarcy Burton of Newtown, was taken to Sullivan county memorial hospital with moderate injuries.

The accident was five miles east of Harris on Sullivan county route e. Authorities said the eastbound pickup went off the right side of the road and overturned, extensively damaging the vehicle.

The patrol said neither person was wearing a seat belt.
Bookmark this article at these sites