Accidents : 5 Die In Cass County Accident
Posted by Randy

on 2013/7/5 6:00:00

(

1243 reads

) News by the same author
Five persons were killed south of Kansas City late yesterday afternoon when a car skidded out of control and was hit by a pickup truck in Cass county.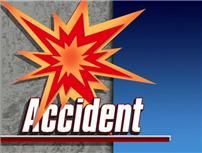 All five persons killed were in the car, the driver 32-year old Jason Rittermeyer of Archie, and passengers, eight year old Anna Embitterment, ten year old Noah Rittermeyer, nine year old Sage Rittermeyer, all from nearby Archie, and 22-year old Alea Lucas of Olathe, Kansas.

The driver of the pickup, 52-year old Jimmy Crust of Archie, received what the highway patrol called minor injuries. He was taken to Cass Regional Medical Center at Archie with what the Highway Patrol called minor injuries.

The accident was on Cass county Route B. The patrol said the westbound car went off the right edge of the road, the driver lost control, and the car skidded sideways across the road. It was hit on the passenger side by the eastbound pickup.

Two of the persons in the car were thrown from the vehicle. The car was demolished. The pickup had extensive damage.
Bookmark this article at these sites