Accidents : Trenton Resident Struck By Vehicle
Posted by Randy

on 2013/7/1 4:20:00

(

1017 reads

) News by the same author
A Trenton resident was struck by a vehicle Friday afternoon in Trenton near 9th Street and Olive.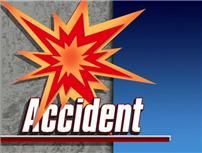 Fifty Six year old Kevin McClaflin of Trenton was taken to Wright Memorial Hospital with injuries to his leg. McClaflin also complained of injuries to his arm.

The driver of the car, sixteen year old Sidnei Hammett of Trenton was not reported injured.

Police indicated Hammett was eastbound on 9th street near olive when witnesses stated that McClaflin stepped into the path of the vehicle.

Hammett applied brakes on the vehicle, skidding before the front left corner of the vehicle struck McClaflin.

McClaflin was quoted by police as saying he did not see the vehicle before entering the street from the sidewalk.

Hammett was wearing a safety device. No citations were issued in the incident.
Bookmark this article at these sites