Accidents : Stewartsville Woman Injured In Cameron Accident
Posted by Randy

on 2013/6/27 7:31:07

(

442 reads

) News by the same author
A Stewartsville woman suffered serious injuries in an accident on Interstate 35 in Cameron Wednesday morning.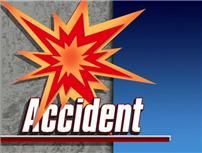 According to the Missouri State Highway Patrol reports, 85-year old Edith M. Smith was transported by Cameron Ambulance to Liberty Hospital with serious injuries.

The patrol reports the accident occurred at 5:20 a.m. in the southbound lane of I-35 within the city limits.

Smith, driving a 2005 Cadillac, and 49-year old Randall Wooden of Parkville, driving a 2009 Kenworth tractor-trailer, were both southbound.

The patrol reports Wooden fell asleep and the tractor-trailer struck the rear of Smith's vehicle. The Cadillac went off the west side of the interstate, struck a tree, and overturned and came to rest on its top. Wooden brought the tractor-trailer to a stop off the west side on its wheels.

The Cameron Police Department and Clinton County Sheriff's Department assisted at the scene.
Bookmark this article at these sites