Accidents : Motorcyclist Injured In Accident
Posted by Randy

on 2013/6/25 6:32:57

(

355 reads

) News by the same author
A motorcyclist from Linneus was injured when he reportedly drove off a road in St. Charles county Sunday afternoon.

66 year old Michael Bryant of Linneus was listed with minor injuries, taken by ambulance to Mercy Hospital in Washington (Mo.) Damage was minor to the motorcycle. Bryant was using a safety device.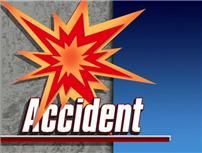 Other articles
2014/10/2 4:50:00 - Why No One Wants To Host The 2022 Olympics
2014/10/2 4:47:08 - How Facebook's New Ad Network Tracks Customers
2014/10/2 4:38:58 - Where The Heck Is My Spare Tire?
2014/10/2 4:21:58 - 19-Year-Old Missouri Student Found Dead In Fraternity House
2014/10/2 4:19:20 - Adding Solar, Wind Power Expected To Benefit Ameren Customers
2014/10/2 4:09:03 - Legislative Leader Wants Missouri Lottery Put To A Vote
2014/10/2 4:03:04 - Free Birth Control Cuts Teen Pregnancy, Abortions
2014/10/2 3:57:40 - Missouri Man On Death Row Says Cell Tracing Unfair
2014/10/1 15:20:00 - Princeton Tiger Coaches Shows For Wednesday, 10/1/14
2014/10/1 14:55:15 - Texas Girl Kidnapped 12 Years Ago At Age 4 Found Alive In Mexico
2014/10/1 10:18:30 - Trenton Fire Department Dispatched To Trenton Businesses
2014/10/1 10:14:11 - Princeton Resident Charged With Failure To Appear
2014/10/1 6:52:11 - Reporter Spots Missing Boy While Covering Child's Disappearance, Reunites Him With Family
2014/10/1 6:37:02 - Archaeologists Discover 'Dracula's Dungeon' In Turkish Castle
2014/10/1 6:28:30 - Islamic State Beheads Seven Men, Three Women In Syria
2014/10/1 4:30:00 - 200 Jobs To Be Added To Expanding Company In St. Joseph
2014/10/1 4:26:15 - Sexbots Are On The Way
2014/10/1 4:20:14 - Suddenlink To Pull Channels In Pricing Dispute
2014/10/1 4:14:49 - Police: Missouri Man Bound, Beat Girlfriend
2014/10/1 4:09:48 - NFL: Referees Should Not Have Penalized Abdullah For Muslim Prayer
2014/10/1 4:04:42 - California Becomes First State To Ban Plastic Bags
2014/10/1 4:00:10 - Ebola Case Stokes Concerns In Texas
2014/9/30 12:00:00 - Gilman City (Pattonsburg) Coaches Shows For Tuesday, 9/30/14
2014/9/30 10:40:00 - Kansas City Chiefs Wallop New England, Improve To 2-2
2014/9/30 10:24:24 - In Advance Of Postseason Play, Royals Announce Wild Card Game Roster
2014/9/30 10:20:00 - Knox County Wins Schuyler Softball Tournament, Milan Finishes 1-2
2014/9/30 10:05:40 - Mizzou Rallies For SEC-Opening Win At South Carolina, 21-20
2014/9/30 10:02:00 - NW Missouri State Wins At Central Oklahoma, 36-13
2014/9/30 9:50:00 - KU Jayhawks Fire Charlie Weis
2014/9/30 9:43:12 - Tri-County Coaches Shows For Tuesday, 9/30/14
Bookmark this article at these sites