News : Man Arrested In Death Of 13 Year Old Macala Shelton
Posted by Randy

on 2013/6/24 14:50:00

(

1238 reads

) News by the same author
An Iberia man has been charged with murder in connection to the missing Miller County teenage girl found dead over the weekend.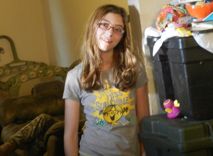 First degree murder charges have been filed in the death of a 13-year-old Iberia girl. Steven Neal Henderson, 30, of Iberia was charged with first degree murder and armed criminal action by the Miller County Prosecuting Attorney in the death of Macala Shelton.

Officers found Shelton's body Sunday morning in a wooded area on an abandoned farm outside of Iberia in southeastern Miller County.

Shelton was the subject of a Missouri State Highway Patrol endangered person advisory over the weekend. The Highway Patrol issued the advisory for Shelton Saturday afternoon.

The advisory stated that Shelton was last seen going to bed at her home at 102 St. Louis Street, but when her grandmother went to wake her Saturday, she was missing.

According to the advisory, a security camera on the home was discovered disconnected from within the home at the scene.

The Missouri State Highway Patrol retracted the endangered person advisory early Sunday morning. The advisory retraction stated the "Missing juvenile has been located."

Shelton was last seen wearing a baseball shirt with a neon yellow '8' on it, black shorts and black glasses.

A probable cause statement filed in the case states that when officers took Henderson in for questioning, "a statement was made where he detailed how he stabbed [Shelton] with a large survival knife." Henderson then allegedly detailed where he disposed of the murder weapon.

Officers obtained a search warrant for 102 St. Louis Street and located the weapon at the residence. Henderson is being held at the Miller County jail on $500,000 bond. He appeared in person at an arraignment Monday morning, where he requested representation by a public defender.

Officers also arrested 33-year-old Jerry Henderson II, also of 102 St. Louis Street. Henderson II was charged with felony unlawful possession of a firearm. A separate probably cause statement indicated that during the death investigation at 102 St. Louis Street, officers located "multiple firearms including a large cache of ammunition in the bedroom belonging to Jerry Henderson II." The statement described Henderson II possessing "several hundred pounds" of ammunition and hundreds of assault rifle magazines.

Henderson II has a past conviction for second degree arson out of Miller County. He is also being held at the Miller County Jail on $50,000 bond.

According to a press release from Miller County Sheriff Bill Abbott, an autopsy has been scheduled and the investigation is ongoing.

The Miller County Sheriff's Department and the Missouri State Highway Patrol are the leading the investigation into Shelton's death.


Other articles
2014/12/19 17:20:11 - KC Royals Sign Starting Pitcher Edinson Volquez
2014/12/19 17:20:00 - Medlen In, Giavotella Out In Kansas City
2014/12/19 17:16:45 - California JUCO Player Verbals To Mizzou
2014/12/19 17:09:57 - Chillicothe Man Involved In I-435 Multi-Vehicle Accident
2014/12/19 17:04:42 - Thursday Accident Near Newtown Injures Area Women
2014/12/19 17:00:52 - Moore Files For Chillicothe Councilman-At-Large
2014/12/19 16:56:56 - Trial for Trenton Man Accused Of Murder Begins In January
2014/12/19 16:50:42 - Princeton Medical Clinic Adds X-Rays
2014/12/19 16:46:25 - Unionville Man Wins Patrol Trooper Award
2014/12/19 16:41:05 - Friday Morning Wreck Injures Cameron Man
2014/12/19 16:37:52 - Bethany Native Resigns Maryville Superintendent Position
2014/12/18 15:10:26 - 550 Million Year Old Fossils Provide New Clues about Fossil Formation
2014/12/18 15:10:00 - Daniel, Maclin, Coffman Highlight Mizzou's 2014 Hall Of Fame Class
2014/12/18 15:03:45 - Gallatin Man Organizing Regional Horticulture Conference
2014/12/18 14:58:51 - Upgraded Ketcham Center Set To Host 10th Annual Holiday Hoops
2014/12/18 14:48:10 - Royals Add To Pitching Staff, Signing Ex-Atlanta Brave Kris Medlen
2014/12/18 14:31:14 - Buchanan County Inmate Found Dead
2014/12/18 14:26:33 - Thursday Morning Accident Injures Jamesport Man
2014/12/18 12:30:00 - Ankle Bracelet Helps Police Catch Suspected Burglar
2014/12/18 12:27:33 - THS Freshmen Split With Cameron Dragons
2014/12/18 12:20:24 - Tri-County Conference Rivals Split Hoops Doubleheader
2014/12/18 12:15:46 - U.S. Officials Blame North Korea For Sony Hack
2014/12/18 12:06:48 - U.S. Kills Three ISIS Leaders in Iraq Strikes, Officials Say
2014/12/18 11:30:00 - Milan Wildcats Find Struggles At Knox County, Lose Stallbaumer To Injury
2014/12/18 11:28:41 - Hornets Stay Red-Hot, Sweep Macon
2014/12/18 11:21:10 - St. Joseph Truck Driver Convicted in Child Prostitution Case
2014/12/18 11:16:36 - Lafayette Girls Upend Hamilton, 45-40, Head To Trenton On Saturday
2014/12/18 5:50:00 - School Announcements For Thursday (7:41 AM Update)
2014/12/17 13:22:19 - Could Alcatraz Escapees From '62 Have Survived?
2014/12/17 13:10:28 - Waco, Texas Meteorologist Shot Outside TV Station
Bookmark this article at these sites