News : Twins Arrested In Livingston County
Posted by Randy

on 2013/6/21 4:55:42

(

1509 reads

) News by the same author
Livingston County deputies were initially searching for Mr. Jeremy L. Orona, 24, wanted on a Livingston County arrest warrant for alleged felony theft/stealing.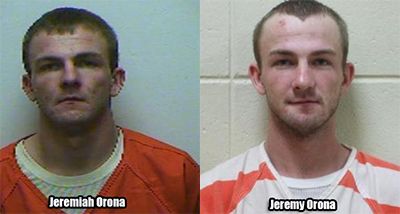 Deputies went to a residence in Chula where they made contact with Jeremiah J. Orona, 24, and inquired about the location of his brother.

Further investigation led to the discovery of Jeremy Orona allegedly hiding inside a small hidden location beneath a large whirlpool tub inside the home.

This resulted in the arrest of Jeremy Orona on the warrant and the arrest of Jeremiah Orona for alleged felony Resisting/Interfering with a Felony Arrest. Both men were transferred to the Daviess Dekalb County Regional Jail.

Deputies noted during the investigation that one or both Orona men commented they were both aware Jeremy Orona was a wanted fugitive based on the Most Wanted information on the Livingston County Sheriff's Office website.


Bookmark this article at these sites