News : Gooseberry Ice Cream At Grundy County Museum
Posted by Randy

on 2013/6/13 7:20:35

(

382 reads

) News by the same author
The Grundy county museum has announced Gooseberry ice cream will be served Sunday with a Paid admission to the museum.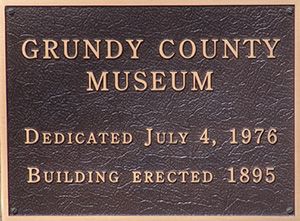 Serving, while supplies last, is Sunday afternoon from 2:30 until 4 o'clock at the museum.

Admission is two dollars for adults. Children ages 12 and younger will be admitted free when accompanied by an adult.

The featured exhibit highlights products Produced in Grundy county. It's called
Made in Grundy county.
Other articles
2015/12/1 11:19:31 - Winston Jumps Maysville Early, Holds On For Gallatin Tournament Win
2015/12/1 10:57:58 - Stanberry Bulldogs Dominate In Albany Tournament's First Night
2015/12/1 10:48:47 - CHS Hornets Beat Platte County, Advance To Savannah Semifinals
2015/12/1 10:36:12 - Defending State Champions Beat BMC At Northwestern Tournament
2015/12/1 10:27:37 - Milan Loses Hoops Openers At Novinger Tournament
2015/12/1 10:03:04 - Mercer Cardinals Sweep Mormon Trail, Improve To 2-0
2015/12/1 8:54:36 - Grundy R-5 Coaches Shows For Monday, 11/30/15
2015/12/1 8:45:44 - Mercer Cardinal Coaches Shows For Monday, 11/30/15
2015/12/1 8:10:00 - Valle Catholic Rolls Penney In Class 1 State Title Game
2015/12/1 7:50:25 - MU Women Win California Tournament, Improve To 7-0
2015/12/1 7:50:00 - Trenton Native Named Interim Head Coach At Mizzou
2015/12/1 5:40:00 - Woman, Two Young Children, Injured In Daviess County Accident
2015/12/1 5:24:35 - Winter Storm Dumps Snow On Northern Plains
2015/12/1 4:27:00 - No Charges Filed After Boy, 13 Shot Dead For Stealing
2015/12/1 4:11:58 - City Of Columbia Will Determine Whether MU Professor Is Prosecuted For Assault
2015/12/1 4:06:54 - Nashville Mom Drives Car Into Pond With 3 Children Inside
2015/12/1 4:00:43 - Braymer Man Pleads Guilty To $300,000 Cattle Fraud
2015/11/30 14:47:47 - Saturday To Be Busy With Events In Princeton
2015/11/30 14:40:44 - Trenton Teen Charged With Hindering Prosecution
2015/11/30 14:38:02 - Stewartsville Man Identified In Officer-Involved Shooting Sunday
2015/11/30 14:31:28 - Jameson Read Sentenced To 21 Years In Prison For 2013 Murder
2015/11/30 14:17:49 - Independence Man Charged With Attempting To Rob Pastor
2015/11/30 9:05:33 - Collins' 3 TDs Leads Arkansas Past Missouri 28-3
2015/11/30 9:01:46 - Chiefs Hold Off Bills 30-22 For Fifth Straight Win
2015/11/30 7:48:23 - Mizzou Teaching Assistant Arrested For Pulling Hair, Slapping 14-Year-Old For Not Wearing Hijab
2015/11/30 7:42:38 - Proposal To Be Filed Tomorrow Would Have Missouri Offset The Cost Of Adoptions
2015/11/30 5:40:00 - Gallatin Woman Receives Minor Injuries In Highway 13 Accident
2015/11/30 4:45:30 - Woodrow Wilson's Legacy Gets Complicated
2015/11/30 4:18:00 - Thief Steals Half-Million Dollars From Detroit Casino Using Nothing More Than Clever Disguise
2015/11/30 4:08:29 - Wyoming Authorities Chase, Ram, Shoot Vehicle To Arrest Missouri Fugitive
Bookmark this article at these sites