News : Choc And Chalk To Be Held In Chillicothe
Posted by Randy

on 2013/6/13 6:30:00

(

397 reads

) News by the same author
The Chillicothe United Methodist Church is hosting what it's calling the first annual Choc And Chalk walk festival August 31st.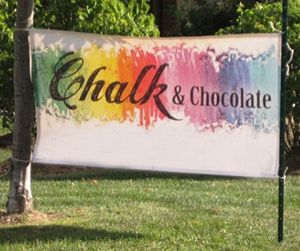 Part of the festival includes chocolate tasting. A ticket will allow three chocolate deserts to be tasted.

Another component of the festival is a Chalk walk contest, in which artists 15 years and older will be given a specified area of concrete to work on from 9 o'clock the morning of August 31st until 6 o'clock that evening.

The artists must supply their own chalk. Any kind of chalk may be used. The theme of this year's contest is Joy. Prize money for the chalk walk event is 250 dollars for first, 100 dollars for second, and 50 dollars for third in each of two age groups, 15 to 19, and age 20 and older.

Individuals and groups of three or less are eligible to enter the chalk competition. There's no charge to register, which can be done by contacting the Chillicothe united Methodist church by July 31st.
Bookmark this article at these sites