News : Cameron Police Chief Resigns
Posted by Randy

on 2013/6/11 6:20:00

(

917 reads

) News by the same author
Credit To mycameronnews.com

After serving as chief of police for the city of Cameron for the past nine years, Corey Sloan has submitted his resignation from the position, effective June 24, 2013.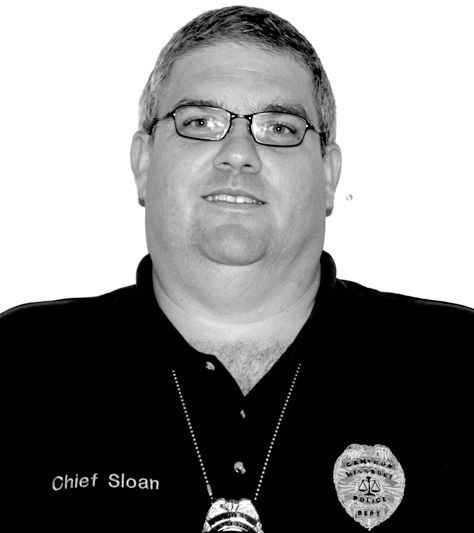 Cameron City Manager Mark Gaugh confirmed that Sloan submitted his letter of resignation Monday.

When contacted by mycameronnews.com, Sloan indicated he did not want to comment on the reason for his resignation from the position.


Sloan began his career with the Cameron Police Department as a reserve officer in July 1991. He became a full-time officer in January 1993. He then left in March 1996 to work for the Missouri State Fire Marshal's Office. He returned to the Cameron police department in June 2001. He was on the NITRO Task Force from October 2002 until April 2004, when he was hired as chief of police. Sloan also served as the emergency management director for the city.

Sloan, a 1988 graduate of Winston High School, received an associate of science degree in criminal justice from Missouri Western State University in May 1991. He then earned a Bachelor of Arts degree in fire administration and fire prevention technology from Western Illinois University in December 1999. He also holds a Master of Arts degree in sociology and criminal justice from Lincoln University, which was awarded in December 2011. He is currently working towards a Master of Science degree in fire and emergency management at Oklahoma State University.
Other articles
2015/11/30 9:05:33 - Collins' 3 TDs Leads Arkansas Past Missouri 28-3
2015/11/30 9:01:46 - Chiefs Hold Off Bills 30-22 For Fifth Straight Win
2015/11/30 7:48:23 - Mizzou Teaching Assistant Arrested For Pulling Hair, Slapping 14-Year-Old For Not Wearing Hijab
2015/11/30 7:42:38 - Proposal To Be Filed Tomorrow Would Have Missouri Offset The Cost Of Adoptions
2015/11/30 5:40:24 - Gallatin Woman Receives Minor Injuries In Highway 13 Accident
2015/11/30 4:45:30 - Woodrow Wilson's Legacy Gets Complicated
2015/11/30 4:18:00 - Thief Steals Half-Million Dollars From Detroit Casino Using Nothing More Than Clever Disguise
2015/11/30 4:08:29 - Wyoming Authorities Chase, Ram, Shoot Vehicle To Arrest Missouri Fugitive
2015/11/30 4:02:14 - MU Professor Says Campus Climate Is Worse Than Before Recent Protests Of Racism
2015/11/29 13:50:00 - Buchanan County Drug Strike Force Seize $445,000 In Meth Bust
2015/11/29 13:38:16 - Officers Shoot Suspect In DeKalb County On Highway 36
2015/11/28 19:39:28 - Police Suspect Father Beat 7-Year-Old Son, Fed His Body to Pigs
2015/11/27 6:40:00 - Minnesota Hunter Bags Unicorn Buck
2015/11/27 4:20:00 - Homeless Man Beaten Outside Gas Station In April Dies
2015/11/27 4:15:06 - What Happened When I Took My Spoiled Kid To A Homeless Shelter
2015/11/27 4:03:23 - Dentists Recount Strangest Things Found In Patients' Mouths
2015/11/27 4:00:00 - Planned Parenthood Considering All Legal Options To Continue Abortions At Columbia Clinic
2015/11/27 3:53:22 - November Firearms Deer Season Ends With Harvest Of 189,938
2015/11/25 14:20:00 - Police Seek Help Finding Grain Valley Fugitive
2015/11/25 12:30:05 - 11 Earthquakes Strike SE Missouri Overnight
2015/11/25 12:00:00 - Trenton Woman, Rescued In Monday Fire, Passes Away In Hospital
2015/11/25 11:14:43 - Mizzou Women Beat SIUE 75-46, Move to 5-0
2015/11/25 10:57:47 - Northwestern Holds Off Missouri 67-62 In CBE Classic
2015/11/25 10:50:00 - Lady Bulldogs Ride Richman's 22 Points To First Win Of Season
2015/11/25 10:36:32 - Gilman City Girls Open With Road Win Against Osborn
2015/11/25 10:26:54 - Chillicothe Routs Penney In Girls Season Opener
2015/11/25 10:20:00 - Princeton Splits Season Openers At North Harrison
2015/11/25 9:30:00 - Trenton Goes Overtime In Season-Opening Win Over East Buchanan
2015/11/25 8:56:26 - Mizzou Facing Image Crisis After Racial Issues, Upheaval
2015/11/25 8:26:05 - Two Charged With Murder After Man Found Dead Near Branson
Bookmark this article at these sites