News : Laredo Board Of Education To Meet Monday Evening
Posted by Randy

on 2013/6/7 7:34:46

(

429 reads

) News by the same author
The agenda for a meeting of the Laredo board of education Monday night includes the budget for the fiscal year ending this June 30th, and a preliminary budget for the fiscal year starting July 1st.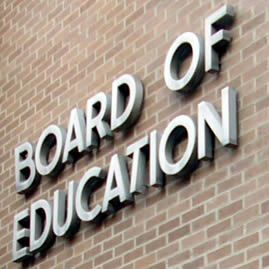 A special board meeting is to be scheduled for late this month to close out the current budget and make final transfer adjustments.

Also on the agenda for the meeting this coming Monday night are non-certified salaries;an annual transportation report; recommendations from an insurance carrier following an inspection of the building; a physical hazard action plan; and bids for building repairs, fuel, propane, and milk.

Other topics are summer maintenance and a closed session regarding personnel and student matters.

The Spickard board of education meeting is Monday night at 7 o'clock at the school.
Other articles
2015/11/25 11:14:43 - Mizzou Women Beat SIUE 75-46, Move to 5-0
2015/11/25 10:57:47 - Northwestern Holds Off Missouri 67-62 In CBE Classic
2015/11/25 10:50:00 - Lady Bulldogs Ride Richman's 22 Points To First Win Of Season
2015/11/25 10:36:32 - Gilman City Girls Open With Road Win Against Osborn
2015/11/25 10:26:54 - Chillicothe Routs Penney In Girls Season Opener
2015/11/25 10:15:22 - Princeton Splits Season Openers At North Harrison
2015/11/25 9:30:00 - Trenton Goes Overtime In Season-Opening Win Over East Buchanan
2015/11/25 8:56:26 - Mizzou Facing Image Crisis After Racial Issues, Upheaval
2015/11/25 8:26:05 - Two Charged With Murder After Man Found Dead Near Branson
2015/11/25 7:35:35 - North Central Missouri College Board of Trustees Meeting Report
2015/11/25 6:38:42 - Cameron Regional Medical Center Announces Awards Scholarships
2015/11/25 6:29:52 - 37th Annual Eagle Days at Squaw Creek Refuge To Be Held Dec. 5 & 6
2015/11/25 6:02:08 - Grundy County To Receive New Voting Equipment
2015/11/25 5:46:26 - Woman Identified In Monday Fire
2015/11/25 5:37:58 - Two Teens Injured, One Arrested In Accident Near Milan
2015/11/25 4:21:31 - Authorities Identify Victims, Alleged Shooter In Moberly Area Murder-Suicide
2015/11/25 4:18:02 - Grandfather Who Let 8-Year-Old Drive In Fatal Crash Had DUI, Drug History
2015/11/25 4:08:39 - A Rainy Thanksgiving And Potentially Slick Black Friday Morning For Missouri
2015/11/25 3:57:16 - Livingston County Sheriff Investigation Results In Conviction
2015/11/25 3:49:18 - I-29 Traffic Stop Nets 60 Pounds Of Marijuana
2015/11/24 15:28:17 - NCMC Men Fall To .500 With Hard Fought Road Loss
2015/11/24 15:21:45 - Grundy R-5 Swept In Basketball Season Openers
2015/11/24 15:19:17 - Kansas State Blows Out Missouri 66-42 In CBE Classic Semis
2015/11/24 15:15:14 - Cunningham Repeats As SEC Freshman Of The Week
2015/11/24 15:13:38 - Trenton JV Girls Drill Cameron, 37-9
2015/11/24 10:25:04 - NCMC Lady Pirates Limp Into Thanksgiving On Three-Game Skid
2015/11/24 9:30:00 - Mizzou Basketball Will Play In Puerto Rico In November '16
2015/11/24 9:15:21 - Hamilton Overcomes Wind, Cold, And Skyline To Advance To Class 1 Title Game
2015/11/24 8:58:23 - Houston's Pick-6, Poe's TD Run Carry Chiefs Over Chargers
2015/11/24 8:54:19 - Tennessee Beats Missouri 19-8, spoils Pinkel Home Finale
Bookmark this article at these sites