News : Livingston County Sheriff's Deputy Involved In Auto Accident
Posted by Randy

on 2013/5/23 7:30:00

(

827 reads

) News by the same author
On the night of May 16 a deputy had a one vehicle accident while responding to an emergency call in the North Western part of Livingston county.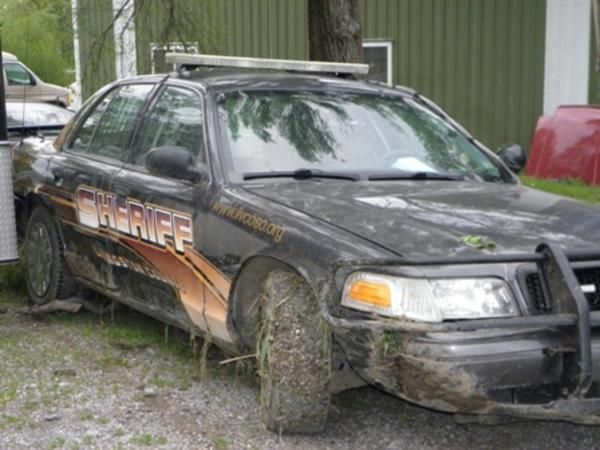 In a press release, issued by the Livingston County Sheriff's Department:

Deputy Brady Graham was on Highway 190 west of the Thompson River Bridge and lost control of the patrol car which caused the car to travel off the roadway causing extensive damage to the vehicle.

Deputy Graham did not seek immediate medical attention. The accident is being investigated by the Missouri State Highway Patrol. We have reviewed the in-car camera system and it appears the deputy had reached a speed of 92 M.P.H. at one point prior to the crash.

We will further review the accident report in addition to our office policies as we review all internal accidents. Fortunately this was a one car crash and no one was seriously injured.

The patrol car was a 2005 Ford Crown Victoria with over 140,000 miles and had recently had the air bag system worked on; however the air bags did not deploy on this incident.
Other articles
2015/1/29 10:21:27 - Grundy County Circuit Court News
2015/1/29 10:20:00 - Trenton High School Students To Participate In Polar Bear Plunge
2015/1/29 10:15:19 - Royals Name Merrifield, Binford As Minor League Players Of The Year
2015/1/29 10:05:32 - Chillicothe Police Seek Help From Public Concerning Burglary
2015/1/29 10:02:30 - Private Pesticide Applicator License Training Offered By University Extension
2015/1/29 9:55:15 - Chillicothe Man To Serve Prison Time For Probation Violation
2015/1/29 9:44:53 - Princeton Tiger Coaches Shows For Thursday, 1/29/15
2015/1/29 9:31:44 - Maryville Man Charged With Felony After Alleged Racial Slur
2015/1/29 9:30:00 - Milan Wildcat Coaches Shows For Thursday, 1/29/15
2015/1/29 8:48:47 - Second Child Dies After Parents Use Prayer, No Medicine
2015/1/29 8:30:00 - Police: Woman Filmed Porn At College Library
2015/1/29 8:20:00 - Teen Forced To Wear Winter Coat, Or Leave School Dance
2015/1/29 4:34:12 - Woman Slashes Her Children's Throats To Quiet Them, Police Say
2015/1/29 4:17:27 - Groups Discuss Privacy Issues Related To Body Cameras
2015/1/29 4:13:52 - Springfield Officer Shot In Line Of Duty Has "Career Ending Injury"
2015/1/29 4:07:42 - Tape: Scientist Offers To Build Nuclear Bomb Targeting New York
2015/1/29 4:03:05 - Missouri Lawmakers, Elected Officials Likely To Get Pay Raise
2015/1/29 4:00:32 - Mother Unknowingly Shuttles Weed In Van For 13 Years
2015/1/29 4:00:00 - Missouri Airport Police Officer Faces Child Porn Charge
2015/1/29 3:56:19 - Police: Man Arrested For Dragging Officer With Vehicle
2015/1/28 13:00:00 - NASA's Challenger Exploded 29 Years Ago Today
2015/1/28 11:40:00 - Trenton Bulldog Coaches Shows For Wednesday, 1/28/15
2015/1/28 11:11:43 - Northern Missouri Remains Well-Represented In High School Hoops Poll
2015/1/28 10:22:16 - Trenton JV Boys Fall To Chillicothe, 63-50
2015/1/28 10:07:08 - Balanced Hornets Mow Through Excelsior Springs In Cameron Quarterfinal
2015/1/28 9:54:54 - Princeton Tramples Union Star, Moves To Gilman City Semifinals
2015/1/28 9:44:52 - Electric Rates Remain Hot Topic At Latest Meeting
2015/1/28 9:41:15 - Gallatin Board Of Aldermen Meeting Report
2015/1/28 9:39:20 - Linn County Mustangs Advance To Meadville Semifinals
2015/1/28 9:38:37 - County Budget Topic Of Latest Meeting
Bookmark this article at these sites