News : First area bridge replacement in 2014
Posted by Tom

on 2013/12/31 9:40:00

(

395 reads

) News by the same author
A bridge on State Highway 139 to be replaced early in 2014 after the contractor received approval from the Highway and Transportation Commission.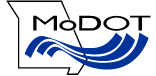 The Stanley Lake Bridge on Route 139 in Chariton County is to be replaced, according to the Missouri Department of Transportation. The contractor will close the bridge to begin work on Monday, Jan. 6, 2013.

"When we had to lower the weight limit to 10 tons after a routine bridge inspection, we know that impacted the surrounding community," said MoDOT Northwest Area Engineer Tonya Lohman. "The new bridge will not only raise the weight limit, it will also give motorists a smoother, safer ride."

A $2,199,840.41 contract to replace the bridge was awarded to Widel, Inc. of Blackwater, Missouri.

The contractor will close the bridge at 7 a.m. on Monday, Jan. 6, 2013. Completion is expected by June 1, 2014, weather permitting.

Motorists will need to use an alternate route while the new bridge is being built. A signed detour will be in place to direct motorists around the closure. MoDOT apologizes for any inconvenience this necessary closure may cause.
Bookmark this article at these sites