Sports : Trenton High School Senior Signs With Central Methodist
Posted by Tom

on 2013/12/24 9:30:00

(

865 reads

) News by the same author
Trenton High School senior Cassidy Cotton has signed a National Letter of Intent to attend and play basketball for Coach James Arnold at Central Methodist University.




Cotton, a four-year member of the Trenton Lady Bulldog basketball and softball teams, is the second announced recruit for Central Methodist for the 2014-2015 season. She is the daughter of Rod and Missie Cotton of Trenton.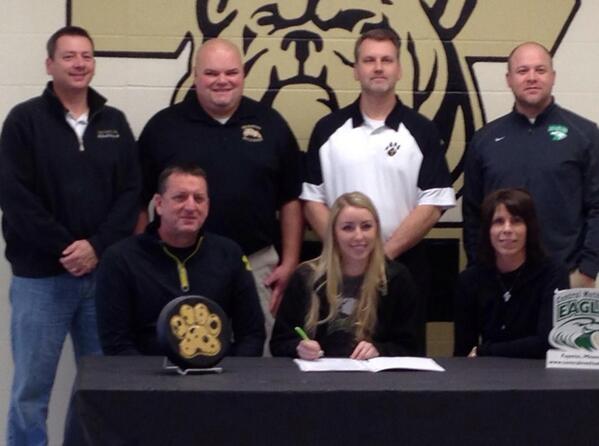 Picture provided by Twitter @TrentonBulldogs/taken by Seth Herrold/Trenton R-T





Pictured in the front row with Cotton are her parents, Rod and Missie Cotton. Pictured in the back row are, from left, Trenton Athletic Director Kris Ockenfels, Trenton Assistant Coach John Cowling, Trenton Head Coach Brian Upton and CMU Head Coach James Arnold.




Cotton credits her knowledge and familiarity of Coach Arnold's coaching style (from his NCMC days) as a main factor in the decision to attend CMU.

Coach Arnold is the former head coach at North Central Missouri College, and is married to Trenton native Lesley McKay-Arnold. The couple has a daughter, Audrey.

Central Methodist University is an NAIA school, and a member of the Heart of America Athletic Conference. It is located in Fayette, Missouri.
Bookmark this article at these sites