News : "Wizard Of Oz" To Be Performed In Chillicothe
Posted by Tom

on 2013/12/18 10:00:00

(

379 reads

) News by the same author
Permission letters are going home this week with local and area elementary students, featuring information about auditions for the Missoula Children's Theatre production of "The Wizard of Oz".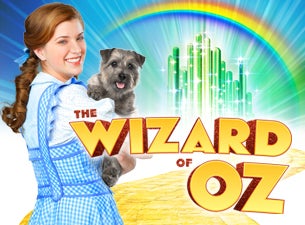 Auditions will be held from 4 to 6 o'clock on the afternoon of Monday, January 6th at the Gary Dickinson Performing Arts Center in Chillicothe.

The program is sponsored by the Chillicothe Area Arts Council. Students from kindergarten through the 12th grade may audition. Middle and high school students may pick up permission slips from their school's office and bring it with them to the audition.

The directors will select 50 to 60 local and area students to present TWO performances on Saturday, January 11th. The Missoula Children's Theatre touring productions are complete with costumes, scenery, props, and stage makeup. There is no cost to the students.

MCT Tour Actor/Directors will conduct rehearsals throughout the week from 4:00 to 8:30 each evening, with a 30 minute break for a snack or 'sack lunch'. Those auditioning will need to have a clear schedule for the week of January 6th to the 11th, and if selected for the cast, be able to attend all rehearsals required for their role.

The Missoula Children's Theatre residency has been made possible with funding from the Roger A. Browning Foundation and from the Missouri Arts Council, a state agency. For more information, contact the Chillicothe Area Arts Council at arts@chillicothemo.com or phone (660)646-1173.
Other articles
2014/12/18 15:10:26 - 550 Million Year Old Fossils Provide New Clues about Fossil Formation
2014/12/18 15:10:00 - Daniel, Maclin, Coffman Highlight Mizzou's 2014 Hall Of Fame Class
2014/12/18 15:03:45 - Gallatin Man Organizing Regional Horticulture Conference
2014/12/18 14:58:51 - Upgraded Ketcham Center Set To Host 10th Annual Holiday Hoops
2014/12/18 14:48:10 - Royals Add To Pitching Staff, Signing Ex-Atlanta Brave Kris Medlen
2014/12/18 14:31:14 - Buchanan County Inmate Found Dead
2014/12/18 14:26:33 - Thursday Morning Accident Injures Jamesport Man
2014/12/18 12:30:00 - Ankle Bracelet Helps Police Catch Suspected Burglar
2014/12/18 12:27:33 - THS Freshmen Split With Cameron Dragons
2014/12/18 12:20:24 - Tri-County Conference Rivals Split Hoops Doubleheader
2014/12/18 12:15:46 - U.S. Officials Blame North Korea For Sony Hack
2014/12/18 12:06:48 - U.S. Kills Three ISIS Leaders in Iraq Strikes, Officials Say
2014/12/18 11:30:00 - Milan Wildcats Find Struggles At Knox County, Lose Stallbaumer To Injury
2014/12/18 11:28:41 - Hornets Stay Red-Hot, Sweep Macon
2014/12/18 11:21:10 - St. Joseph Truck Driver Convicted in Child Prostitution Case
2014/12/18 11:16:36 - Lafayette Girls Upend Hamilton, 45-40, Head To Trenton On Saturday
2014/12/18 5:50:00 - School Announcements For Thursday (7:41 AM Update)
2014/12/17 13:22:19 - Could Alcatraz Escapees From '62 Have Survived?
2014/12/17 13:10:28 - Waco, Texas Meteorologist Shot Outside TV Station
2014/12/17 13:10:00 - St. Joseph Mom Accused Of Starving Baby To Death
2014/12/17 11:20:00 - Trenton Bulldog Coaches Shows For Wednesday, 12/17/14
2014/12/17 10:16:42 - 19th Century Worth County Court Cases Added To Statewide Database
2014/12/17 10:10:30 - Livingston County Investigating Property Damage Reports
2014/12/17 10:02:39 - Hamilton Woman Wins NCMC Scholarship
2014/12/17 9:40:00 - Trenton Tames The Tigers, Awaits Gallatin Visit
2014/12/17 9:30:00 - KC Royals Officially Announce Kendrys Morales Signing
2014/12/17 9:10:00 - Trenton Police Department Begins Body Camera Usage
2014/12/17 8:43:30 - MCT Seeks Actors/Actresses To Perform "The Jungle Book"
2014/12/17 8:30:00 - Indiana Woman Wishes To Be Buried With Her Dog, But.........
2014/12/17 8:30:00 - Young Ohio Woman Continues Public Battle With Brain Cancer
Bookmark this article at these sites